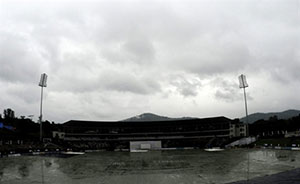 December 8, 2010 (Island Cricket): The five-match ODI series scheduled to start on December 9 has been postponed, according to a statement made by Sri Lanka Cricket (SLC) on it's Facebook fan page. With the exception of an informal Facebook message, neither a media release, nor a statement has been issued by SLC clarifying the matter.
Inclement weather conditions hampered the recently concluded Test series between the two sides resulting in the loss of over 500 overs in the series. The Test series washout cost Sri Lanka heavily in the ICC Test rankings when the third ranked side slipped down to number five as a result of a drawn series.
In light of prevailing conditions, which has resulted in severe flooding in most parts of the island, the organisers are likely to schedule a three-match series next month.
It is unclear at this time if the T20I, originally scheduled to be played on December 21, will also be postponed. According to former West Indian skipper, Chris Gayle, the whole tour has been postponed. Gayle, on his Twitter account, posted the following: "Tour officially call off!! So Jam town me say!!!"
© Island Cricket