Sri Lanka turn to young guns for HK Cricket Sixes glory.
By Staff Writers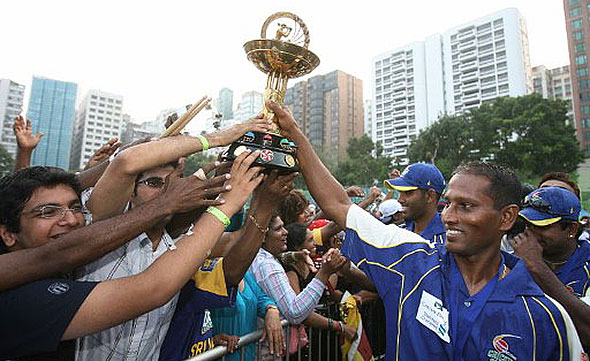 Indika De Saram displays the trophy after winning the final of the Hong Kong Cricket Sixes 2007. AFP PHOTO/MIKE CLARKE.
October 15, 2011 (Island Cricket): Boasting the youngest side in the tournament – the average age is just 22 – Sri Lanka, captained by the talented Chamara Kapugedera, will be a mighty force to reckon with at this year's Hong Kong Cricket Sixes, which will get underway in just 13 days (October 28-30).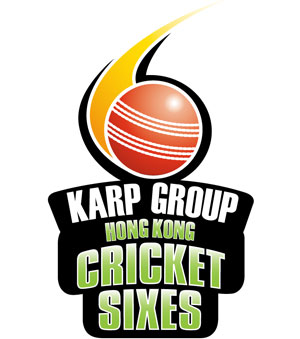 Elder statesman Sanath Jayasuriya, who will be turning out for the All Stars, will be well aware that Sri Lanka will be a serious threat in the preliminary rounds.
Kapugedera, who at 24 is the oldest player in the side, is well-steeped in the shorter form of the game having represented Sri Lanka on 85 occasions in one-day internationals as well as the last World Cup.
He will have as his deputy the hard-hitting left-hander Thisara Perera who made his test debut earlier this year against England in Galle. Perera, a bowling all-rounder, has also represented his country in 16 ODIs and has an enviable batting average of 67.
While Kapugedera and Perera have already had a taste of life at the top, it will be a clutch of other hungry youngsters who could prove to be the real danger, as they go all out to prove to the selectors back home that they are ready for international duty by adding the 2011 title to their trophy cabinet, having won in the title in 2007.
Amongst the brood are two captains of former under-19 World cup squads – Ashan Priyanjan, a hard-hitting right-hand batsman who is also a useful seamer and left arm pacie Chathura Peiris.
Aggressive wicket keeper-batsman Kushal Perera is another to watch out for, as are Dilshan Munaweera and all-rounder Sachith Pathirana, two stroke-makers who round off a competitive team.
While Sri Lanka could be the danger team in pool A, which comprises the All Stars, New Zealand and Scotland – Bangladesh and South Africa will pose similar threats in pools B and C respectively.
Like Sri Lanka, Bangladesh will field a team mainly of young and talented all-rounders who will be hoping to gel around a couple of experienced players in Tapash Baishya and Anamul Bijoy. The duo have both played tests for Bangladesh and will be the glue that holds the rest of the side together.
Bangladesh will also boast the man who won them the gold medal at the Asian Games last year – all-rounder Shabbir Rahman who hit two successive sixes off the penultimate over to defeat Afghanistan.
Group B opponents, defending champions Australia, England and Ireland will be aware that Bangladesh can be the proverbial banana skin and will be wary.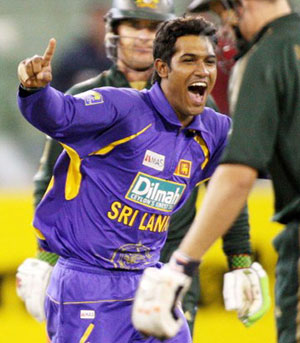 In Pool C, South Africa will pose a threat thanks to the presence of powerful batsmen Lenert Van Wyk and Lyall Meyer. The 2009 champions return with a new-look side but it is this unknown quantity that will be the danger to pool C opponents Pakistan, India and Hong Kong.
Teams
Sri Lanka: Chamara Kapugedera, Thisara Perera, Ashan Priyanjan, Chathura Peiris, Dilshan Munaweera, Sachith Shanaka, Kusal Perera.
Bangladesh: Alauddin Babu, Nazmul Milon, Anamul Bijoy, Shabbir Rahman, Tapash Baishya, Rony Talakdar, Khandaker Hossain.
South Africa: Dillon du Preez, Mangaliso Mosehle, Richard Cameron, Lenert Vam Wyk, Lyall Meyer, Aubrey Swanepoel, Matthew Hulett.
About the Karp Group Hong Kong Cricket Sixes 2011
Organized by the Hong Kong Cricket Association since 1992, the Hong Kong Cricket Sixes is the only international cricket event held in Hong Kong. The Hong Kong Sixes is fully sanctioned by the world's governing body for cricket, the International Cricket Council, and title sponsored by Karp Group.
With the support of the Hong Kong Tourism Commission's Mega Events Fund for the first time in 2011, this year's Karp Group Cricket Sixes 2011 is set to be the biggest and best clash in the 19-year history of the Tournament. The Hong Kong Sixes has also been recognised an official "M" Mark event by the Major Sports Events Committee since 2007. Tickets can be purchased from the Hong Kong Ticketing website at www.hkticketing.com, the Hong Kong Cricket Association office in Olympic House, Kowloon Cricket Club, Hong Kong Cricket Club and at Jashan and DotCod restaurants in Central.
The tournament has been broadcast live since 2008 and in 2010 reached over 80 million households on the Indian subcontinent, across Southeast Asia, the Middle East, Australia and South Africa, as well as being packaged for distribution in North America, the United Kingdom, Europe and China.
About the Mega Events Fund
The Mega Events Fund was set up in 2009 to support mega arts, cultural and sports events to be staged in Hong Kong.