By Hilal Suhaib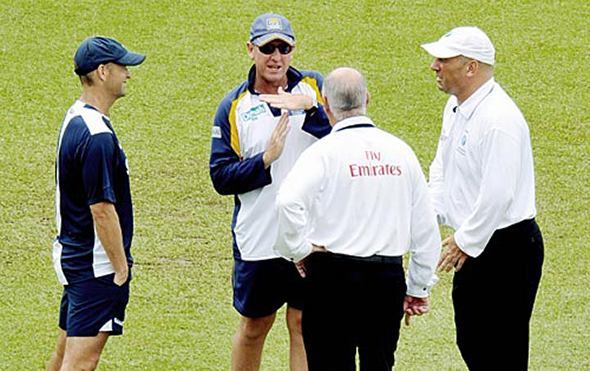 Sri Lankan coach Trevor Bayliss discusses the hand signal used in the UDRS when the system was first utilised back in 2008. AFP PHOTO/Lakruwan WANNIARACHCHI.
October 30, 2010 (Island Cricket): Secretary of Sri Lanka Cricket (SLC), Nishantha Ranatunga, said that hosts Sri Lanka are keen on utilising the Umpire Decision Review System (UDRS) for the series against the West Indies starting November 15.
Sri Lanka have always shown a keenness on using the new television review system, but India's disliking of the system based on Sachin Tendulkar's opinion of it, and under Anil Kumble as captain, India's unproductive use of the UDRS in 2008, has prevented it from being utilised in Sri Lanka's recent tours; most of which have been against India.
SLC and televisioin rights holders for matches in Sri Lanka, Ten Sports, are said to be working on acquiring the required Hawk-Eye technology which can only be hired from a third party, and according to Ranatunga, only next week will it be confirmed if the review system will in fact be available for the series.
The West Indies travel to Sri Lanka in November to play three Test matches, five ODIs and a T20I. The visitors play a three day practise match ahead of the first Test which begins in Galle on November 15.
© Island Cricket.