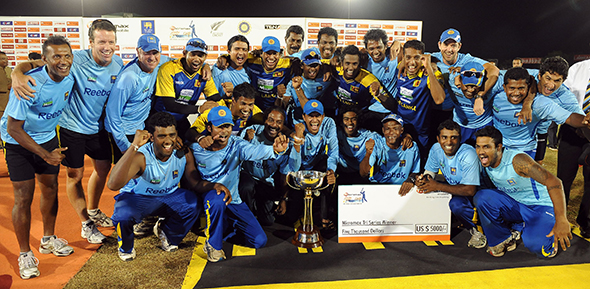 Sri Lanka are on the verge of taking second spot in the ICC ODI rankings. AFP PHOTO/ Lakruwan WANNIARACHCHI.
November 02, 2010 (Island Cricket): Both South Africa and Sri Lanka have the chance to go ahead of second-ranked India in the Reliance Mobile ICC ODI Rankings when the Proteas face Pakistan in the remaining three ODIs in Dubai and Sri Lanka goes head to head with top-ranked Australia in Melbourne this week.
Sri Lanka and South Africa are currently locked on 115 points – two behind India. But all this can change depending how their respective series pan out.
If Sri Lanka wins its three-match ODI series against Australia, it is guaranteed second place in the championship table while South Africa can only move ahead of India if it wins all the remaining three ODIs.
A 3-0 win for Sri Lanka will put it on 121 ratings points – four behind Australia, which will drop to 125 ratings points – while a 2-1 success for Kumar Sangakkara's side will take it to 118 ratings points.
On the other side of the coin, Sri Lanka will drop behind England on 112 ratings points if Ricky Ponting's side makes a clean sweep of the series while both the sides will retain their pre-series rankings and ratings if Australia wins the series 2-1.
The challenge for South Africa is tougher, particularly after a rejuvenated Pakistan's sensational one-wicket victory in the second ODI in Abu Dhabi on Sunday.
The Proteas now need to win the remaining three matches which will lift them to 119 ratings points.
In sharp contrast, South Africa's failure to win the series or the remaining matches of the series will have dire consequences on its standing on the ODI table.
If Pakistan's wins the series by 3-2, South Africa will drop below England on 111 ratings points while Graeme Smith's side will fall as low as sixth if Shahid Afridi's men win all the three matches which will be played at Dubai International Stadium in Dubai Sports City.
Pakistan's success in the remaining three ODIs will mean both sides will be equal on 107 ratings points but the home sides will be placed higher when the ratings are calculated beyond the decimal point.
ICC Press Release.