By Staff Writers
October 29, 2011 (Island Cricket): Sri Lanka, captained by Chamara Kapugedera, have qualified for the quarter-final of the Karp Group Hong Kong Cricket Sixes. They will meet the Woodworm All Stars captained by fellow-countryman Sanath Jayasuriya in the Cup quarter-finals.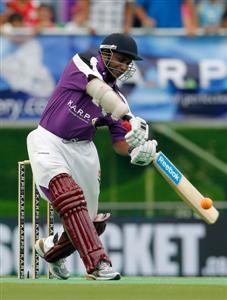 Earlier in the day, the Jayasuriya-led All Stars got off to the worst possible start when they were beaten by Scotland by five wickets in their opening pool game, at the picturesque Kowloon Cricket Club. A slow start by openers Herschelle Gibbs and Jayasuriya, the pair managing to eke out only 15 runs in the first two overs, undermined efforts to post a competitive total.
Scotland had no problems in overhauling the modest total of 77 and they did it with ease, with five balls to spare. That result put the pressure on the Woodworm All Stars, and tough times called for some tough calls which were taken by the All Stars management, who promptly dropped the mis-firing Gibbs and replaced him with the sweet-hitting Vincent.
Vincent wasn't called to do any heavy-duty hitting in the next game against Sri Lanka. With Shahid Afridi joining Jayasuriya, the openers were both soon in the zone hammering the bowling all over the park before retiring. Ryan ten Doeshcate was out second ball for a duck but Piyush Chawla hit a quick-fire 28 as the All Stars finished on a healthy 102.
It was a bridge too far for Kapugedera's men, who had already qualified for the quarter-finals with wins over Scotland and New Zealand, and they finished 10 runs short of the total. It kept the All Stars in the hunt in the competition, and they faced New Zealand in the final pool game needing a win to keep alive hopes of winning the Cup title for the first time.
Vincent came to the rescue against his countrymen blasting a magnificent unbeaten 55 that helped the Woodworm All Stars overhaul New Zealand's total of 89 for two.
Vincent, helped by an unbeaten 35 from Afridi, returned to the crease after a judicious decision by RP Singh to run himself out. With Jayasuriya, ten Doeschate and Chawla all being dismissed without a run against their names, it was left to Vincent, and to a lesser degree Afridi to see the All Stars home, much to the delight of a capacity crowd of 3,000.
© Island Cricket