By Staff Writers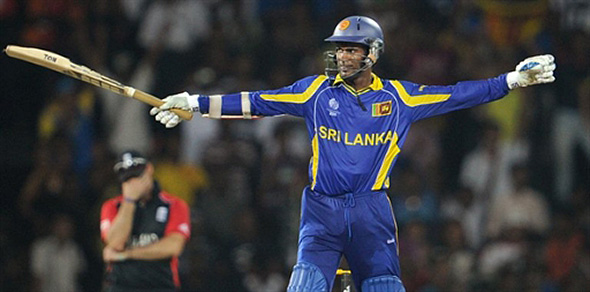 The stylish left-hander faces a ban from international cricket. © AFP
May 30, 2011 (Island Cricket): A spokesperson for the ministry of sports in Sri Lanka has confirmed that Sri Lankan cricketer Upul Tharanga had indeed failed a drug test during the ICC Cricket World Cup 2011, a report by AFP said today.
Harsha Abeykoon said that an inquiry has also been launched by the sports ministry, and that Sri Lanka Cricket (SLC) had yet to be officially informed by the International Cricket Council (ICC) on Tharanga's situation.
"The sports minister named a three-member panel to launch a domestic investigation and as a first step they will record a statement from Tharanga at the earliest," Abeykoon told AFP.
AFP also quoted an unnamed source, who stated that Tharanga was "tested in Colombo during Sri Lanka's World Cup match against New Zealand", and that the "ICC had taken a urine sample from him, although other players had been subjected to blood tests."
Yesterday, a report on the Sri Lankan newspaper The Sunday Times claimed that the 26-year-old batsman had been tested positive for prednisolone, and suggested that the banned substance was given to him by the alternate medical practitioner associated with Sri Lanka's president Mahinda Rajapaksa.
"The practitioner is often recommended to sports personalities and others by the VVIP, and has treated several sportspersons including Indian cricket legend Sachin Tendulkar and test players Gautam Gambhir and Ashish Nehra, all of whom visited Colombo to consult the high profile Sri Lankan born alternate medical practitioner," the report said.
The Hindu reported on March 22, 2010, that Gambhir and Nehra were "treated by Eliyantha White on the request of the Sri Lankan President."
The focus now will shift towards the man known as the Sri Lankan president's 'supernatural healer', who is said to have treated several Sri Lankan cricketers.
Tharanga, in the meantime, is said to be preparing for an ICC tribunal, which is likely to result in a ban.

© Island Cricket