Rex Clementine reporting from Dambulla.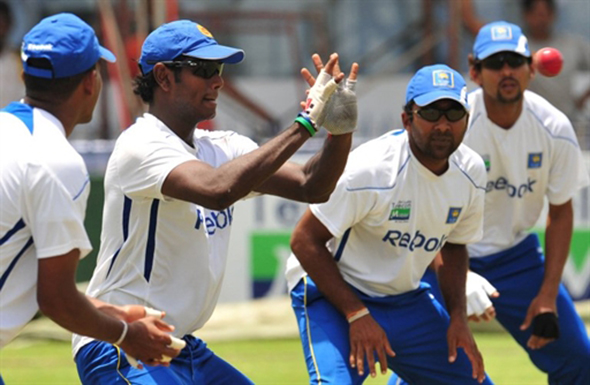 Sri Lanka's overall fielding may have been not up to desired standards, but it too certainly has picked up with captain Kumar Sangakkara Mahela Jayawardene, Chamara Kapugedara and Suraj Randiv being involved in some exceptional fielding displays. © AFP/Lakruwan WANNIARACHCHI.
June 24, 2010 (islandcricket.lk): Sri Lanka, who won the previous two editions of the Asia Cup tournament in 2004 and 2008, will be looking for their third successive regional title in today's grand final of the tournament against India at the Rangiri Dambulla International Cricket Stadium.
Both teams have won the Asia Cup four times each and the winner of today's contest will take the lead with the fifth title and for India they will be looking to win their first title since 1995.
Sri Lanka – India clashes in home ODIs in recent times have been terribly one-sided affairs with the tourists dominating, having won two successive five match series here and a tri-nation tournament. Struggles against India and generally the team's poor form saw them slip down to number seven in the ICC Rankings with poor fielding and inconsistent performances by the middle order batsmen being the main reasons.
Currently, the team has risen above Pakistan and is ranked at number six and recent tournaments have provided indications that they could emerge as one of the top three teams in the world. Angelo Mathews at number five has helped to sort out some issues, although questions about the effectiveness of Chamara Kapugedara, Thilan Samaraweera and Thilina Kandamby still linger.
Sri Lanka's overall fielding may have been not up to desired standards, but it too certainly has picked up with captain Kumar Sangakkara Mahela Jayawardene, Chamara Kapugedara and Suraj Randiv being involved in some exceptional fielding displays.
Sri Lanka, following their unbeaten run in the league stages, will be confident ahead of the final, especially after beating the Indians in the last preliminary round game. Incidentally, in the last two Asia Cup finals too, Sri Lanka have beaten India.
Captain Sangakkara felt that the win over India on Tuesday will give his team some confidence, but reminded that they have to start things all over again in the final.
"It's hard to say whether we are going to have any advantage. The win certainly has given us a bit more confidence. It's going to be a new wicket for the final and we need to just push the last win out of our minds, refocus and start from scratch," the skipper said.
"We've got to bowl our first 15 overs a lot better than we did on Tuesday. They got into a very strong position and we managed to change it around with a run out and a hat-trick. These don't come every game. We need to tighten up our game a bit and make sure we bowl a good line and length."
Sangakkara was also asked whether he knows what makes successive Sri Lankan sides do well in Asia Cups, as the team had reached the finals of all editions of the tournament.
"I am not too sure. It's just that we play well at crucial times. We haven't always had the strongest of sides compared to the opposition, but for some reason I think our guys have shown lot of character and really fight it out.
"Winning an Asia Cup is a special thing and it's going to inspire us hopefully. Since Arjuna Ranatunga took over and took us through that 1995 season in Australia and through 1996, he made sure that there's a lot of toughening up of Sri Lankan Cricket. That's paid dividends through the years and you can see a bit of it even now."
It was Farveez Maharoof who starred for the hosts in their last group match with a hat-trick, ending up with a five wicket haul and the job of the Sri Lankan team management will be made tougher as they have so many options to think about.
"It's going to be pretty tough for us, but it's a good situation to be in. We'll be sitting with the selectors and thrashing a few issues out and see what the best eleven will be going into the final," Sangakkara added.
We are going to take this match in isolation, not look ahead and not going to look too much behind us as well and just going to focus on picking the best 11 for this particular game."
Indian captain Mahendra Singh Dhoni, meanwhile, said that there wouldn't be any additional pressure on his side despite losing to Sri Lanka ahead of the final.
He was also asked whether not winning an Asia Cup in 15 years is a worry.
"I don't think there's added pressure on us. Somehow we have not been able to win. As a cricketer you just have to see it as another game, not see it as a final. You just need to think that you are playing the Sri Lankan team and if you win that game you win the final. You donreally need to think or treat it like as a final," Dhini said in response.
Dhoni admitted, though, that not having the services of Virender Sehwag was a blow. The dangerous opening batsman was ruled out of the tournament after he sustained a hamstring injury during India's clash against Pakistan last week.
"Not having Virender Sehwag is a big blow. But let's hope that Dinesh Karthik who has come in as replacement will be able to provide us with a good start."