By Staff Writers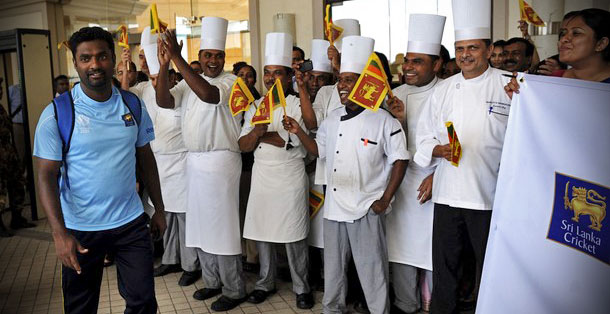 Sri Lankan cricket fans hope that next Saturday's quater-final won't be Muttiah Muralitharan's last One-Day match. AFP PHOTO/Ishara S. KODIKARA.
March 20, 2011 (Island Cricket): Co-hosts Sri Lanka will meet England in their quarter-final of the ICC Cricket World Cup 2011 tournament next week.
West Indies' defeat against India today in Chennai has slotted India against title defenders Australia in Ahmedabad on March 24 in their quarter-final.
Pakistan will play West Indies on March 23 in the first quarter-final of the tournament in Mirpur and New Zealand will meet South Africa in the third quarter-final on March 25 at the same venue.
The fourth quarter-final, on March 26 at the R. Premadasa Stadium in Colombo will be played out between England and Sri Lanka.
Since 2001, Sri Lanka have won six of their nine ODIs played against England on home soil but England's last tour to the island will be a source of inspiration for them. They won a five-match ODI series 3-2 then, under Paul Collinwood's leadership, and will hope now to replicate that success under Andrew Strauss.
As the teams enter the elimination round of the tournament, there is a possibility that next weekend's quarter-final will be the last time the world will witness Muttiah Muralitharan in an ODI. The legendary spinner, now 38 years old, has announced that he will be retiring from limited overs cricket after the World Cup.
England's top order batsman Ian Bell recognised the importance of countering Muralitharan and the challenge of playing in Sri Lanka.
"We're pretty excited about playing Sri Lanka in Sri Lanka," Bell told reporters today in India.
"Sri Lanka is a big challenge. But we've had success there in the recent past, and we hope we can do it again.
"We're going to have to play Murali well," he added.
"But we have [Eoin] Morgan back. [He is] a quality player of spin in the middle order, which will help us."
England's World Cup record against Sri Lanka is impressive. They have won six of their eight encounters against the 1996 World Cup champions. A majority of those victories, however, came before 1996 (when Sri Lanka became a force to be reckoned with).
The English have also not toured the island since October 2007 and the pitch at the R. Premadasa Stadium has proven to be a handful. In the last match played there between Pakistan and Australia, inconsistent bounce troubled batsmen from both sides, resulting in Australia's lowest total of the tournament and Pakistan requiring 41 overs for the loss of six wickets to chase down a paltry 176 set by Australia.
Scoring 363 runs at an average of 121.0, Sri Lankan skipper Sangakkara finished the group stages as the highest run-scorer of the tournament but the elegant left-hander will be under pressure, leading his side for the first time in a World Cup quarter-final and playing in front of a home crowd.
The fourth quarter-final of the World Cup will be played out between Sri Lanka and England on March 26 at the R. Premadasa Stadium in Colombo.
© Island Cricket