By Callistus Davy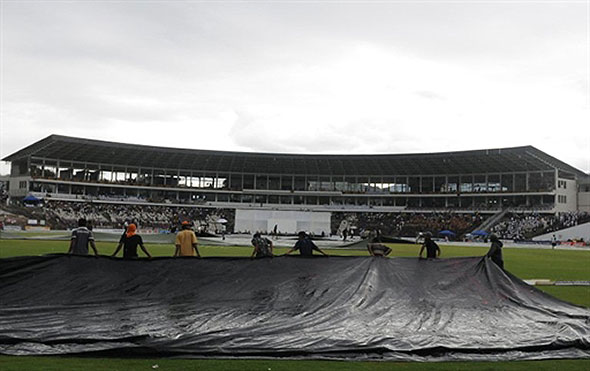 Ground staff work with a tarp after rain stopped play during the second day of the third and final Test match between Sri Lanka and West Indies at the Pallekele International cricket Stadium in Pallekele on December 2, 2010. AFP PHOTO/Lakruwan WANNIARACHCHI.
December 3, 2010 (Island Cricket): Sri Lanka is on course to make dubious cricket history where all three matches of a Test series have been sacrificed to rain, as the second day's play of the third and final Test against the West Indies proved to be another washout with just 41 overs bowled here at the Pallekele stadium, yesterday.
The extent to which the series has been ruined has not only brought into question the timing of the series, but also the wisdom of investing in cricket during the wettest period of the year after as many as 447 overs have been lost from a total of 1100 scheduled overs to date.
But unlike Galle and Colombo, it was not much of a disappointment, but more an inconvenience for the few spectators who came down from their mountain top dwellings only to make the journey back again leaving behind a mackintosh covered ground.
With the first Test in Galle losing 110 overs and the second game in Colombo been stripped of 238 overs, the deciding game has just under 300 overs to produce a result, weather permitting.
With not even one inning complete, only an unbelievable twist in the Test can prevent an unprecedented catastrophe.
'We still have time for a result. We need to take five wickets and then bat for a big total. But with this weather we cannot be sure it's possible", said Sri Lanka coach Trevor Bayliss.
It will not be a surprise if the West Indies decide against taking chances to beat the weather.
'We will try and bat as much as we can, who knows about the weather", said Shivnarine Chanderpaul, who made his first half century in the series as the West Indies reached 244 for 5.