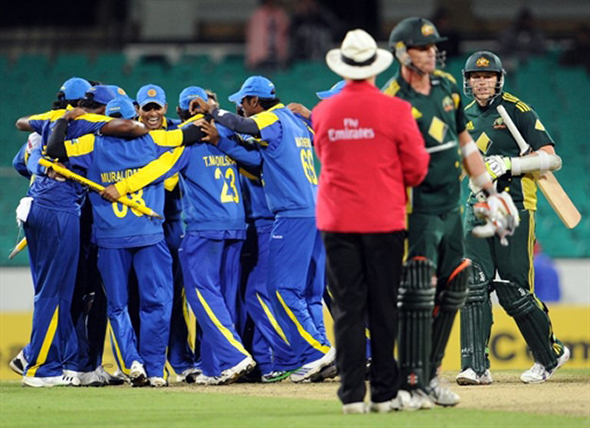 The Sri Lankans celebrate their win over Australia in the second one-day cricket match in Sydney on November 5, 2010. Sri Lanka wrapped up the best-of-three series with their second win over Australia. AFP PHOTO / Torsten BLACKWOOD.
November 05, 2010 (Island Cricket): Sri Lanka handed Australia its seventh consecutive defeat in all forms of the game to win the three match ODI series 2-0. The tourists' 29 run win at the Sydney Cricket Ground on Friday has given them an unassailable lead going into the final match of the series in Brisbane on November 07.
It is the first time Australia have lost a series against the islanders on home soil. With consecutive defeats at the hands of India and Sri Lanka, Australia's Ashes build up and World Cup preparations have suffered another blow.
Rain interruptions reduced the encounter to a Duckworth-Lewis affair but Australia never looked like they would reach their target of 240 in 38 overs thanks to the pressure exerted on Australia's demoralised batting line up by the visitors.
The home side were eventually bowled out for 210 in 37.4 overs. Shane Watson was the highest scorer for them with 40 runs at the top.
Earlier in the day, Inclement weather conditions halted Sri Lanka's progress, and the tourists who won the toss and batted first appeared to be aware that wickets in hand would assist them if it came down to a Duckworth-Lewis calculation. Australia struggled to find a breakthrough as Tharanga held fort.
Tharanga top scored for Sri Lanka with a patient but much required 86 runs off 112 balls.
"We have had opportunities to win games and we haven't got there, just all departments are a little bit wanting at the moment," Ponting, who now inherits stand-in skipper Michael Clarke's miserable record, said speaking to journalist after the loss
"We have to start winning games as the Australian cricket team."
Sri Lanka's skipper on the other hand was rightfully elated, and heaped praise on Sri Lanka's up and coming players who shone on this tour.
"Sri Lanka seems to be in really good hands going into the future," Sangakkara said of his youthful team assuring them all places in the 2011 World Cup squad as reward.
Both teams now head to Brisbane for a dead rubber on Sunday which will likely see more empty stands, compounding Cricket Australia's woes further. According to recent statistics, Australians have turned off their television sets, and abandoned the Australian team as a result of of the home team's pathetic performances of late. Ticket sales for the current series, too, have been at an embarassing low in comparison with recent years.
© Island Cricket.