By Hilal Suhaib
Last week's headlines in brief (11/04/2011 – 17/04/2011)
Sri Lanka Cricket left with $23M debt after World Cup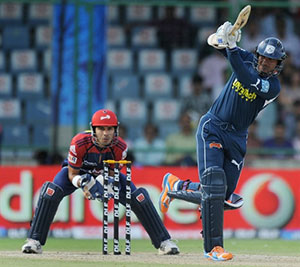 Sri Lanka Cricket (SLC) and the World Cup secretariat in Sri Lanka were unable to keep the World Cup tournament within their budget, leading to cost overruns that have left SLC with debt nearing 23 million US dollars.
"We are expecting $25 million from the ICC soon, by way of hosting rights. Once that comes, we can sort things out," Sri Lanka Cricket treasurer Sujeewa Rajapakse told AFP on April 12.
Minister orders IPL players back early to prepare for England tour
Sri Lanka's sports minister Mahindananda Aluthgamage told journalist in Colombo that he had requested Sri Lankan players taking part in the Indian Premier League (IPL) tournament to return to the island by May 5, earlier than previously agreed to by both boards.
"On a recommendation made by the national selection committee, I have instructed the secretary of the board to inform the players to return by at least May 5 to prepare for the tour," the minister said.
"When contracted players of Sri Lanka Cricket represent other tournaments, they should make sure that their priority lies with the national team, and this will be strictly adhered to in the future."
Maharoof joins Lancashire
Sri Lankan all-rounder Farveez Maharoof has signed with English county Lancashire, and finally joined the county after visa delays on April 13.
"The one thing I like about him is that he is coming over here for one reason, the best reason, which is that he wants to play cricket and move his game forward to get back into that Sri Lanka team," Lancashire coach Peter Moores said.
"That's the best motivator. It's a better motivator than money, that's for sure."
Sri Lanka will not tour Pakistan
SLC has chosen not to tour Pakistan later this year. Sri Lanka want the tour, which is a part of the ICC's Future Tours Programme, to be played at a neutral venue.
"Sri Lankan authorities have also conveyed that they would prefer if [the FTP] series scheduled later this year in Pakistan was held at neutral venues like Dubai and Abu Dhabi," the Indian publication Mid-Day quoted an unnamed Pakistani official as saying.
Vaas shines yet again for Northamptonshire
Veteran fast bowler Chaminda Vaas picked up 3/70 and 2/33, and scored a valuable 27 runs in Northamptonshire's first innings to help his county beat Kent, by an innings and 159 runs, in their LV County Championship division-two match played between April 14 – April 16.
Tough county debut for Mendis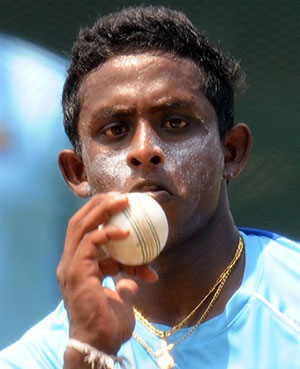 Ajantha Mendis struggled to cope with the cold English conditions in his debut match for Somerset against Warwickshire at Taunton on April 14. Mendis went for 183 runs in his 43.1 over spell in the four-day first class fixture, picking up just the four wickets.
With Somerset struggling in their first innings, in reply to a mammoth 642 all-out set by Warwickshire; Mendis, coming in at number ten, smashed a quick-fire 28 off 22 balls, which included a six and four boundaries.
Somerset suffered one of their worst defeats in recent times, losing by an innings and 382 runs.
Players will get demoralised if they go back on May 5 – Murali
Muttiah Muralitharan said that the decision to recall players by SLC, earlier than first promised, would hurt the players financially and demoralise them ahead of the England tour.
"I think the board [SLC] has given them permission till May 20. I don't know what happened suddenly," Muralitharan told a TV station in India.
"The players were told to come on May 5. It is the fault of SLC because they signed the NOC till May 20, so if they change it to May 5 it is something wrong.
"Players will get demoralised because if they go back on May 5, they play half of the IPL and they are going to miss a lot. SLC should have informed the players earlier, then the IPL franchises would understand and everyone would understand.
"There'll be a little bit of friction between the board [SLC] and the players and even the Indian Cricket Board.
"If SLC is not going to support, they are going to miss a lot from India; when India tours Sri Lanka it is very important, and if we are not playing in the Champions League Twenty20, we are going to lose some money. Friendship between India and Sri Lanka will be negative."
"We have 25 million dollars of debt after World Cup. You don't have to antagonise India, because when India comes only we make money and survive, so I don't know what's going to happen," Muralitharan added.
"It might get sorted. These things happen between countries but in the end financially we depend on India, whatever said and done. SLC will have to be careful."
Tom Moody changes his mind on coaching Sri Lanka again
Former Sri Lankan coach Tom Moody, who was short-listed as a possible candidate to take over as coach after Trevor Bayliss' departure, has changed his mind, and is no longer interested in coaching Sri Lanka, The Island newspaper reported on April 15.
© Island Cricket