By Hilal Suhaib
The week's headlines in brief (20/03/2011 – 26/03/2011)
Botham joins FOG and Laureus to build sports complex near Mankulum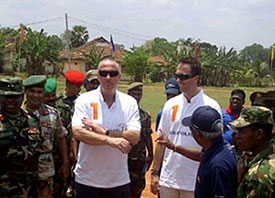 Sir Ian Botham and Michael Vaughan have partnered with Muttiah Muralitharan, Chaminda Vaas and Kumar Sangakkara to lend their support to the Foundation of Goodness (FOG) and the Laureus Sport for Good Foundation to build a sports complex in the war ravaged north.
Flintoff on his mate Murali
In a British Broadcasting Corporation (BBC) programme titled My mate Murali, Andrew Flintoff talked about his close friendship with Muttiah Muralitharan. The former English cricketer reminisced fondly of their time together with the English county Lancashire and picked Muralitharan as the better bowler over spin-rival Shane Warne.
Buchanan, Moody and Law among five coaches in reckoning for Bayliss' position
John Buchanan, Tom Moody, Stuart Law, Trevor Penny and Matthew Maynard are the top five candidates to replace current head-coach Trevor Bayliss after his departure at the end of the World Cup, according to a report on The Island newspaper in Sri Lanka on March 23.
Policemen accused of ticket scalping
Fans who stood in line to purchase tickets for the World Cup told the BBC Sinhala Service on March 25 that they had witnessed policemen purchasing tickets and selling them for a higher price. Sri Lanka Cricket's security manager Lawrence Fernando denied the allegations.
England outplayed at the Premadasa
Hampered by poor fielding, Sri Lanka's bowlers still managed to restrict England to 229/6, which proved to be far too little for the conventional English bowling attack to defend.
Unlike England, Sri Lanka's openers hit the gaps, manoeuvring the ball creatively to take the co-hosts to a 10-wicket win against England in their ICC Cricket World Cup 2011 quarter-final at the R. Premadasa stadium in Colombo on March 26.
England 229/6 (J. Trott 86 – M. Muralitharan 2/54) – Sri Lanka 231/0 (T. Dilshan 108 not-out – T Bresnan 0/40).
© Island Cricket