By Hilal Suhaib
The week's headlines in brief (13/03/2011 – 19/03/2011)
Buchanan and Moody eye Sri Lanka coaching role after Bayliss' departure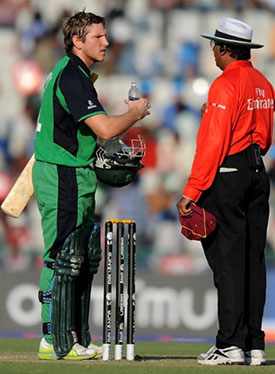 John Buchanan and Tom Moody will join the list of candidates seeking to fill Trevor Bayliss' position as national coach after his contract expires at the end of the World Cup, according to a report on The Sunday Times newspaper in Sri Lanka on Mach 13.
Pakistani journalist covering World Cup arrested in Sri Lanka
Faisal Shahzad, a Pakistani journalist who shares the same name as the individual who attempted to set off a car bomb in New York's Times Square last year, spent a day in detention when Sri Lankan immigrations officials found his name on a terror watch list.
Umpire Asoka de Silva causes controversy at World Cup
Ireland's chances of making it to the quarter-final stages of the World Cup were severely hampered thanks to a series of umpiring errors by Asoka de Silva. The Sri Lankan umpire has had a majority of his decisions overturned in the World Cup, prompting the ICC to announce this week that they had removed him from crucial group matches, which he was originally slated to officiate in.
Sri Lanka to play in tri-series in Scotland
Sri Lanka will travel to Edinburgh, Scotland at the end of their tour of England this year for a triangular ODI tournament, which will feature hosts Scotland and Ireland. The tournament kicks off on July 11 with Ireland taking on Sri Lanka.
Sri Lankan World Cup squad visit HIV-AIDS infected individuals in India
Sri Lankan cricketers visited communities and individuals infected with HIV-AIDS in India on March 15, showing their support for the ICC and UN's Think Wise campaign.
Sri Lanka lacks bowling firepower to win World Cup – Holding
West Indian legend Michael Holding feels that Sri Lanka lack the bowling attack needed to win the World Cup. "Lanka would have gone into the tournament as favourites for some, but I think they do not have the bowling line-up to win it," Holding wrote on March 17 in his World Cup column on the Indian publication The Daily News and Analysis.
Maharoof to play county cricket
Lancashire have signed Farveez Maharoof for the 2011 domestic season, the county revealed on March 17.
Sangakkara hints that wickets in Sri Lanka are not conducive for ODIs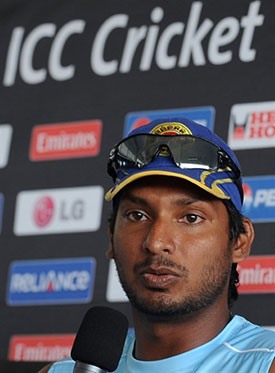 Speaking to reporters from Mumbai on March 17, the Sri Lankan captain said that wickets in India, unlike those in Sri Lanka, played consistently throughout the entire game, giving the toss less prominence. "I personally feel that pitches in India are more balanced as the condition of the wicket more or less remains the same throughout the game," Sangakkara said. "On the other hand, in Sri Lanka teams batting first always have an advantage since the pitch invariably slows down as the match progresses."

Sri Lanka crush New Zealand
Sri Lanka defeated New Zealand by 115 runs at the Wankhede Stadium in Mumbai on March 18, thanks to a sparkling century by Sangakkara and a fine spell of spin bowling from Murlaitharan. Sangakkara's 111 runs is the Sri Lankan captain's first World Cup century.
Sri Lanka 265/9 (K Sangakkara 111 – T Southee 3/63) – New Zealand 153 all-out (R Taylor 33 – M Muralitharan 4/25).
World Cup final venue experiences issues with floodlights
The Wankehede Stadium had just three working floodlight towers for a brief period during the Sri Lanka v New Zealand group match on March 18. The umpires decided to continue with just three towers until the lights in the tower close to the Sunil Gavaskar Stand came back on. Mumbai Cricket Association secretary Lalchand Rajput told The Deccan Chronicle that the failure was as a result of a generator malfunctioning and the seven-minute delay was the time it took to switch to an alternate source of power.
Injured Muralitharan will fight on
After picking up a hamstring injury and a bruised knee in the game against New Zealand, there were fears that Muralitharan maybe unavailable for the quarter-final next week. The 38-year-old put an end to the speculation when he told reporters that he would not miss a single a game in his final tournament. "I have been carrying this hamstring injury for some time and it's not a problem," he said. "I am prepared to play the rest of the matches because I am retiring after the World Cup."
© Island Cricket