By Hilal Suhaib
The week's headlines in brief (06/03/2011 – 12/03/2011)
Visually impaired female cricket reporter wins hearts and minds in Sri Lanka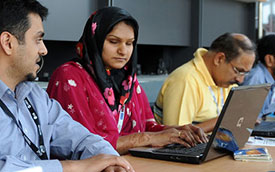 Twenty-eight-year-old Sania Zaidi of Pakistan, who was recently in Sri Lanka covering the ICC Cricket World Cup 2011 tournament as a freelance journalist, has connected in a special way with the Sri Lankan cricket team.
The lecturer of mass communications in the Bahauddin Zakaria University in Multan has been blind since childhood but has defied all odds to fulfil her aspirations, whilst also promoting peace, earning her respect and admiration amongst the Sri Lankan cricket team.
Sri Lankan players know Zaidi by first name and have made her feel at home, she says.
"I covered the Sri Lankan team's one-day series in Pakistan in 2009 and came to know them well," she said speaking to fellow reporters on March 6 in Colombo. "Most of the players know me well and make me feel at home in Sri Lanka."
Sangakkara: Why should we play in India against New Zealand when we are the hosts?
Kumar Sangakkara expressed his displeasure over the scheduling of Sri Lanka's Group-A match against New Zealand in India on March 18.
Speaking to reporters at Pallekele, Sangakkara asked: "Why should we play in India against New Zealand when we are the hosts?
"We were surprised when we learnt that we will have to travel to Mumbai to play the game against New Zealand. I was under the impression that as hosts we play all our matches at home. India and Bangladesh, who are also host countries, play all their matches at home. Why should we be exposed to alien conditions?"
3500 Policemen on duty at WC matches given food "unfit for human consumption"
The Sunday Times newspaper in Sri Lanka reported this week that police officers on duty during the Pakistan – Sri Lanka group match at the R. Premadasa Stadium in Colombo on March 3 had been provided with meals that were "rancid" and "unfit for human consumption".
"Angry sleuths probed how the stale food came to be in their meal packets," the paper reported on March 6. "It turned out that the person handling the contract to supply meals is the wife of a top cop. No further inquiries were held."
Mahinda Abeysundera sorry if his views have been interpreted negatively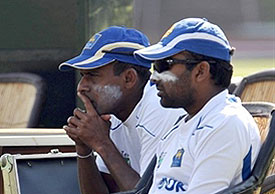 After accusing Mahela Jayawardena and Thilan Samaraweera of match-fixing on his programme Vimasuma on ITN and causing an uproar throughout the island, Mahinda Abeysundera contacted Newsfirst (MTV) in Sri Lanka with a clarification, the Newsfirst website reported on March 6.
"On the 27th, what was expressed in the programme regarding the Sri Lanka – Pakistan match were my views," Abeysundera was quoted as saying. "I very clearly said that for a moment I thought that Mahela and Thilan could not score because they wanted to change the game.
"I have sent a letter to Mahela Jayawardena, Thilan Samaraweera and Kumar Sangakkara apologising for any pain of mind if my views had been misinterpreted in a negative manner."
South Africa concede third place in ODI rankings to Sri Lanka
The Proteas' six-run loss to England in match-21 of the World Cup saw them lose two rating points to slide down to fourth position in the ICC ODI rankings. Sri Lanka, with 117 rating points, moved up the rankings to third place as a result.
SLC denies reports that Dilshan was tested for doping
Speaking to the media on March 9, Sri Lanka Cricket's media manager Brian Thomas rubbished reports that Tillakaratne Dilshan had failed a random drug test carried out by the ICC's anti-doping unit.
International media reports reported that the Sri Lankan media had made the claim but it was later revealed that the rumour may have been spread by a Pakistani publication.
Terrorist threat during World Cup
The Indian publication the Deccan Chronicle reported on March 9 on its website that the Pakistani militant group Lashkar-e-Taiba (LeT) could carry out terrorist attacks during the World Cup. The warning, according the report, came from the Indian Intelligence Bureau (IB).
"The sources said that IB has intercepted LeT messages discussing dates and timings of the matches being played in India," the report stated.
"They said that the terrorists were planning to sneak into India by the sea – the same route that the 10 militants who sailed into Mumbai took in November 2008 to launch the three-day long mayhem that killed 166 people."
The article has since been removed by the publication.
Dilshan delights with all-round display to demolish Zimbabwe
Sri Lanka demolished Zimbabwe by 139 runs to become the first side to qualify for the World Cup quarter-finals, when the two sides met on March 10 at the Pallekele International Cricket Stadium for the 26th match of the tournament.
After being put into bat, Sri Lankan openers Tillakaratne Dilshan and Upul Tharanga put on a 282 runs for the first wicket partnership – a World Cup record.
Sri Lanka 327/6 (T Dilshan 144 – C Mpofu 4/40) – Zimbabwe 188 all-out (B Taylor 80 – T Dilshan 4/4).
World Cup boosts tourist arrivals
Data released by Sri Lanka Tourism showed on March 11 that tourist arrivals had increased by 14.8 percent compared to the same period last year, thanks to the World Cup.
© Island Cricket