By Hilal Suhaib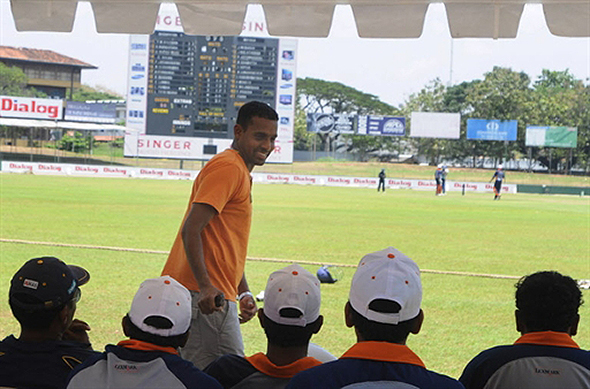 Thilan Samaraweera attends a inter-provincial T20 match last year played to empty stands.The Sri Lankan public have little interest in domestic matches, and Somerset Entertainment Ventures hopes to change that. AFP PHOTO/Lakruwan WANNIARACHCHI.
October 06, 2010 (Island Cricket): Sri Lanka Cricket (SLC) officials feel that there is a considerable amount of money to be made by selling television rights for the local inter-provincial tournament, and have boldly approached the financially struggling state broadcaster, Sri Lanka Rupavahini Corporation (SLRC), to buy the broadcast rights of domestic matches for a mammoth 2.75 million US dollars (Rs. 290 million) for just one season.
In July this year, SLC announced that it signed a five year contract with Somerset Entertainment Ventures. The requested price dwarfs the figure of $1.5 million paid by the Singapore based company, Somerset Entertainment Ventures, to SLC to promote and market inter-provincial cricket matches and the teams taking part for a period of five years.
The inter-provincial tournament, under Somerset Entertainment Ventures, will be renamed the 'Sri Lanka Premier League' (SLPL).
Just why SLC priced a season of domestic cricket so high raises many questions considering the fact that just two years ago the value of the entire Sri Lankan national team was only $3 million for a three year period.
When a buyer willing to pay the price is found, SLC wants the $2.75 million to be paid to a sub-contractor of Somerset Entertainment named Total Sports, a television company in India, who then plan to resell the coverage to foreign television audiences.
Up for sale are the rights for the four-day inter-provincial tournament, the 50-over and T-20 tournaments where newly introduced regulations will allow teams to contract two foreign players per side.
Secretary of SLC, Nishantha Ranatunga, said that it was time to "add value" to domestic cricket and the players, but declined to confirm the price for television rights while adding that the rights were open and up for grabs by any television channel and not just SLRC.
"The purpose (of selling domestic TV broadcast rights) is to add value to the game and have a price on local cricket. We hope we can make a good start. But as of now I cannot confirm any figures as nothing has been finalised. We are having serious discussions (with television channels)," Ranatunga said.