By Staff Writers (with inputs from an ICC media release)
March 15, 2011 (Island Cricket): The Sri Lankan cricket team, currently in India for their ICC Cricket World Cup 2011 Group-A clash against New Zealand on March 18, took time off from their training session today at the Cricket Club of India (CCI) ground to lend their support to the ICC's Think Wise campaign – a partnership between the ICC, UNAIDS and UNICEF that hopes to use the power of cricket to help tackle key issues surrounding HIV-AIDS.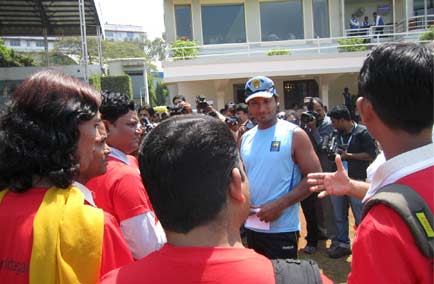 The players met several local community members from the MSM and Hijra communities, including female sex workers from Kamathipura, several of them HIV positive, to understand what it means to be living with homophobia, transphobia, gender violence and HIV and to broaden their understanding of the their issues, such as stigma and discrimination, facing people from high risk.
Kumar Sangakkara, a Champion for the Think Wise campaign, a partnership between the ICC, UNAIDS and UNICEF, believes society must better understand what it means to be discriminated against because you are gay, transgendered or suffer the stigma of being a female sex worker and also living with HIV.
"It was interesting to have the opportunity to meet people who are infected by HIV and understand some of their issues that they face on a day-to-day basis," said Sangakkara.
"What came very clear to me during the interaction was that although the people I met may be very different from us in terms of their sexual or gender identity, and living a very different life to the one we do as players, we still have so much in common. These minority groups are no different to anybody else and they must not be discriminated against."
The Sri Lankan skipper Kumar Sangakkara believes that the Think Wise partnership is well placed to impact on attitudes towards stigma and discrimination among sexual minorities and sex workers and people living with HIV.
"The Sri Lanka team, through the Think Wise partnership, has always tried to support HIV awareness and the fight against stigma and discrimination.
"To be personally involved in this partnership is very important to me. Through my role I have been able to visit community groups across the world at ICC events and understand the varying challenges that face people living with HIV and the efforts being made to prevent discrimination and infection."
"Using our profile as international cricketers, hopefully we can ensure that the Think Wise campaign not only eliminates stigma and discrimination against sexual minorities, sex workers and people living from HIV, but also encourages young people to have an open mind so they are better empowered to protect themselves from HIV."
The Think Wise campaign encourages young people to be informed, take appropriate action to prevent HIV infection, and stand together against the stigma and discrimination often facing people living with HIV. Although UNAIDS announced that new HIV infections had fallen by 20 per cent between 2001 and 2009, more than 7,000 people were infected each day in 2009 and one out of every three of these was a young person aged between 15 and 24 years.
Players will have a series of interactions with local community groups supported by UNAIDS and UNICEF throughout the three host countries. Teams will wear red ribbons on their shirts in key matches during the competition (in all quarter-finals, semi-finals and final) as a show of support for people living with HIV. In addition, HIV prevention messages will be promoted at venues on all match days, including during the national anthem ceremonies.
Young adults taking part in the ICC Cricket World Cup schools programme in Bangladesh, India and Sri Lanka have already received HIV education sessions as part of the Think Wise programme.