By Hilal Suhaib | April 26, 2011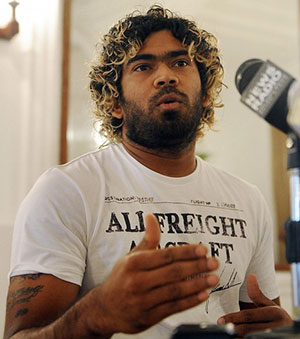 Upon his return to the island from the IPL in India today, Lasith Malinga pointed the finger directly at the Sri Lanka Cricket (SLC) interim committee for aggravating his knee injury in 2008. Malinga also accused SLC of not caring for his well-being during his time away from international cricket as a result of the injury.
Duleep Mendis, the chairman of selectors, has given Malinga an ultimatum to return from the IPL and attend a rehabilitation programme to get back on track to play Test cricket, or face the risk of never playing for Sri Lanka again.
The ultimatum comes despite the advice of SLC's own medical expert, who says Malinga's condition cannot improve.
"The 2008 interim committee did not care for my well being," Malinga told reporters in Colombo earlier today, and added that when he was injured he was left to fend for himself.
As expected, the 27-year-old formally announced that he would be stepping down from Test cricket in order to prolong his career.
"The Test retirement was never about money," he said, brushing aside criticism that he had preferred the more lucrative IPL over national commitments.
"My right knee is getting weaker each day. I have a long-standing degenerative condition that I need to carefully manage.
"I love playing for Sri Lanka. It's my dream to play for my country. I'm not sure if my knee will inflame again."
Despite suggesting earlier this year that he was unsure if he would risk playing Test cricket again, chief selector Mendis' recent comments to the media has forced Malinga to announce his retirement, so that he can remain in India to honour his IPL contract, avoiding Mendis' plan of returning to the island for a rehabilitation programme.
"We have decided to write to Malinga and ask him to return home and undergo a rehabilitation programme," Mendis told reporters last week.
"When the player says that he is injured and he has to undergo a rehab programme, what we can do is to tell him to undergo it immediately, without continuing to play cricket in the IPL, and then get ready for cricket in Sri Lanka if he is interested in playing for his country," Mendis added.
Malinga's condition is unlikely to improve, and expert medical advice suggests reducing his workload in order to prolong his career.
"I have just received the scan results for Lasith's right knee. Fortunately, there [are] no new injuries and no further exacerbation of his past right knee problem that kept him out of cricket for almost a year," the Sri Lankan team's physio Tommy Simsek wrote, in a letter to the then chairman of selectors Aravinda de Silva in November 2010.
However, in his letter, Simsek states that even though there are no new injuries, "He does have some significant wear and tear of his right knee cap (grade-4 changes of PFJ), and some thinning of his articular cartilage where his previous injury was.
"At present, there is no reason for him not to resume his full cricket duties. However, he must be sensible in how his current condition is managed in order for him to miss as little cricket as possible for the duration of his career."
As the only remedy, Simsek suggests using Malinga in shorter spells in order to prolong his career, but with Mendis and SLC assuming that his degenerating knee can be healed, Simsek's expert medical advice appears to have fallen on deaf ears.
© Island Cricket