By Rex Clementine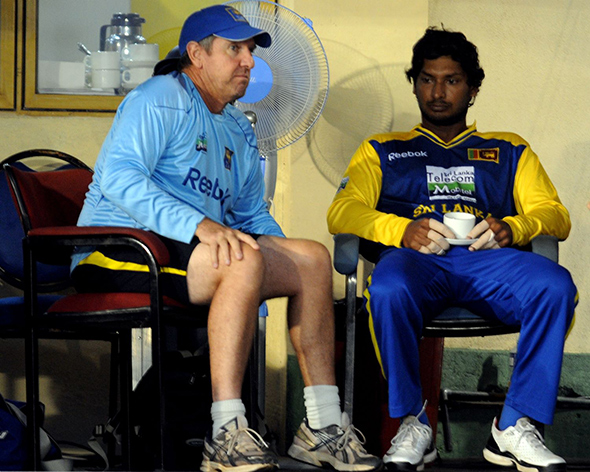 Coach Trevor Bayliss (L) and Kumar Sangakkara (R). AFP PHOTO/ Lakruwan WANNIARACHCHI.
August 24, 2010 (islandcricket.lk): Following a convincing eight wicket win over India in the fifth match of the Micromax tri-nation series, Sri Lanka will have an extended break, and will watch from the sidelines to see who will qualify for the August 28th final with them here at the Rangiri Dambulla International Cricket Stadium.
Sri Lanka were the first team to qualify for the finals following an easy win against the Indians on Sunday and will have plenty of time to prepare for the final and assess their performances in the tournament.
"It's a good preparation for us. But the final will be a completely new game. We have six more days to go and we will be prepared for the final," Sangakkara told journalists after Sunday's win. "On Monday we are planning to travel to Trincomalee, spend the day together, talk about the game, talk about the plans forward, just enjoy, relax, come back, go to gym, rehab and then start training on the third day."
It was also one of the best wins for Sri Lanka against the Indians. The tourists' total of 103 all out is their third worst against Sri Lanka. The Sri Lankans won with a massive 209 balls to spare; India's heaviest defeat against any team in terms of balls to spare.
Sangakkara, however, felt that there were happier moments against the South Asian neighbours in international cricket.
"Our best win against India, I guess, was in Sharjah. It was very early in my career. We got 299 and India were 54 all out I think. So that was a great win and that was a great side. With this particular side with some of our greats retired, it's great for our confidence that we can still do things like this. The key, however, is to win matches consistently."
It was all-rounder Thissara Perera who put Sri Lanka on top with a five wicket haul after India won a crucial toss and elected to bat first. Perera had been left out of the side for the Asia Cup and was under pressure as he returned for the must win game.
Prior to Sunday's game, Sri Lanka had won one game and lost one, while the third game against New Zealand was washed out after they were comfortably placed.
"It was not just the conditions; we knew there was a bit of rain about. We also wanted to lengthen our batting a bit. Thissara is also a quality seamer and has been very successful against India in all his outings. So we thought it would be the right move and it really worked for us. He worked hard in training and he really bowled well today," the Sri Lankan captain said speaking on Perera's performance.
Dambulla has proved to be difficult to bat second, and with sides that win the toss having no hesitation in batting first, it was important for Sri Lanka not to let India post a commanding total.
"We would have batted first because we liked to set a good total on the board and Dambulla anyway under lights will be a bit difficult to bat second," Sangakkara added. "The key was when we lost the toss, not to talk about it and try and keep India to a total we could chase down. We didn't expect them to be 103 all out, but from Lasith Malinga's first ball the line and lengths were exactly what we wanted them to be."
The hosts also sprung a surprise when they opened with former captain Mahela Jayawardene instead of Upul Tharanga.
"Mahela is the best batsman we have without a doubt. To me, he's been ideal for us in the middle order at number four, number five with the power-play on. That's a great area for him to bat, but Mahela over the past year and a half has shown a liking to open and if his mindset is free to go up top of the order and do the work for the side, then guys like me and other players must back that decision," Sangakkara said.
"We've got to move down the order and take responsibility down the order. When we get the batsmen of the quality of Chandimal (Dinesh) in the next few months, then we can back that decision even more. This was a change we made for today. For the next game, we'll have to see."