By AFP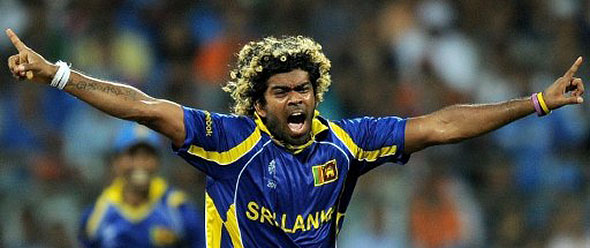 Lasith Malinga proved too hot to handle for the Scots. AFP/FILE/MANAN VATSYAYANA.
July 14, 2011 (AFP): Sri Lanka fast bowler Lasith Malinga ensured the islanders tour of Britain ended on a winning note as he took five wickets in a 183-run one-day international rout of Scotland here on Wednesday.
Beaten in both Test and one-day series by England, the World Cup finalists proved too strong for a Scotland side who'd only the day before piled up 323 in a shock win over fellow non-Test team Ireland.
Sri Lanka made 284 for seven, featuring fifties from openers Mahela Jayawardene (64) and Dimuth Karunaratne (60).
They then saw Malinga, one of the most difficult bowlers in world cricket to face on account of his round-arm, 'slingshot', style take five for 30 as Scotland were shot out for 101 with Majid Haq's 34 double the next best score of any other home batsman.
Malinga, 27, who has retired from Test cricket, earlier made a rapid unbeaten 32 off 15 balls with two sixes but it was his bowling that did the damage.
"He is world class and unfortunately we came up against him at his best and didn't have an answer," said Scotland captain Gordon Drummond.
"I think it's the uniqueness of how he delivers the ball. We knew he was going to be difficult to face but knowing it and actually doing something about it is different things.
"In particular, his slower ball is awkward to see, and it is about 30mph slower, so it's a good delivery to have in your repertoire.
"And if you hit yorkers bang on they're difficult to play, and that showed today. I think he bowled four guys.
"We were trying to keep him out and see if we could get up to four an over from him.
"But when you can bowl yorkers like that consistently at 90mph, it's very difficult to plan against unless you have people brave enough to ramp him or flick him over fine-leg.
"I think guys were just trying to get used to him and score off the other end but his yorkers were too good.
"His arm is hidden when he pulls back and it just comes through, and it comes through quickly too.
"But it's unbelievable control he has got. He is not just swinging it down there willy-nilly, he actually has control, and that's why he is so good."

© AFP