By Ryan Francis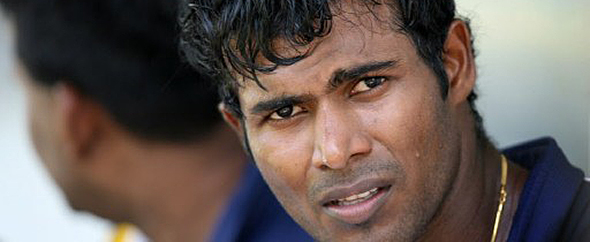 Upul Tharanga is currently serving out a three-month suspension. AFP/File/Deshakalyan CHOWDHURY.
August 1, 2011 (Island Cricket): Former Sri Lankan physiotherapist Tommy Simsek has said that he was unaware of Upul Tharanga's meeting with a faith healer, which eventually led to Tharanga's consumption of a banned substance, thus violating Article 2.1 of the International Cricket Council (ICC) Anti-Doping Code.
Tharanga was subsequently suspended from all cricket-related activities for a period of three months, after an independent tribunal found that he had consumed the banned substance unintentionally.
According to the ICC, Tharanga's urine sample tested positive for Prednisone and Prednisolone, which are classified as 'Specified Substances' under the World Anti Doping Agency's (WADA's) Prohibited List.
"The tribunal accepted that Tharanga had ingested the 'Specified Substances' when drinking a herbal remedy given to him to ease discomfort caused by a long-standing shoulder injury," the ICC said in a statement in June, when announcing the findings of the tribunal and the suspension.
"Tharanga had no intention to enhance his sporting performance or to mask the use of another performance enhancing substance, but that he had failed to satisfy the high levels of personal responsibility implicit upon him as an international cricketer subject to anti-doping rules."
In an interview with Island Cricket, physiotherapist Tommy Simsek said that he had no prior knowledge of Tharanga's meeting with the "faith healer", who allegedly administered the banned substance.
"No I was not aware that Upul was being treated by a faith healer," Simsek, who is no longer with the Sri Lankan team, as his contract with Sri Lanka Cricket (SLC) ended after the ICC Cricket World Cup 2011, said.
"Most of the players knew I was cynical about the effects and treatment offered by faith healers, so they were quite coy about letting me know they had seen a faith healer. So, most of the time, if a player had seen a faith healer, they kept it secret from me."
(Read the full interview with Tommy Simsek here.)
When asked about his opinion on spiritual healers treating professional athletes, Simsek said that while the placebo effect had some psychological benefits, he was "against faith healers that claim unrealistic powers, or offer unrealistic benefits, or convince athletes into unknowingly taking illegal substances."
"I think I had done all that I could to prevent any player from taking a banned substance," the Turkish-born Australian physiotherapist said.
"The players then had to do their bit, which is the most important part. I gave the players a list of banned substances, and told them not to take any medications that had ingredients that were on the list.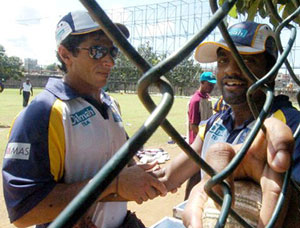 "Furthermore, I informed players that if they took any illegal substances, they would be found personally at fault, so they should not take any medications, or substances, without knowing with absolute certainty that it was a safe substance.
"I told them: 'Do not put it into your body unless you are one-hundred percent sure it is safe!'
"Players were free to show me the medications personally, or to call or text me, with the names of the medications at any time, and I would check the medications for them."
"The Anti-Doping guidelines state that ultimately it is the players' own responsibility not to take any banned substances," Simsek added.
"And ignorance about taking a banned substance is no excuse, even if the medication was given by a doctor. So, all players are aware of their responsibility regarding banned substances.
"In Upul's case, he inadvertently took an illegal substance thinking that it was safe, as the alleged potion had allegedly been tested and cleared. And allegedly, other players around the world had taken an identical potion, and had subsequently been tested and been cleared."
Tharanga's suspension ends at midnight on August 8. He has, however, not been named in the T20 squad for the upcoming series against Australia.
"We cannot include him in an official squad before he completes his ban of three months," an unnamed Sri Lanka Cricket (SLC) official told the Sri Lankan newspaper Daily Mirror last month.
He added that Tharanga was likely to make a comeback to international cricket at some point during the series against Australia, which starts with a T20 at Pallekele on August 6.
At 26, Tharanga already has the same number of ODI centuries (11) as Aravinda de Silva, and his rise has been a remarkable story filled with many hardships along the way.
"After the tsunami I lost everything and didn't play cricket for three, four months," he told The Telegraph in an interview in 2007.
"There was no cricket in Sri Lanka. Kumar [Sangakkara] helped me with finances and cricket. He gave me 50,000 rupees and some cricket bats and gloves …"
But nothing could be more devastating than becoming the first Sri Lankan cricketer to be tested positive for a banned substance, and missing out on the tour of England as result, especially after averaging 56.42 at the World Cup and finishing the tournament as the fifth highest run scorer.

© Island Cricket