By Staff Writers | September 27, 2017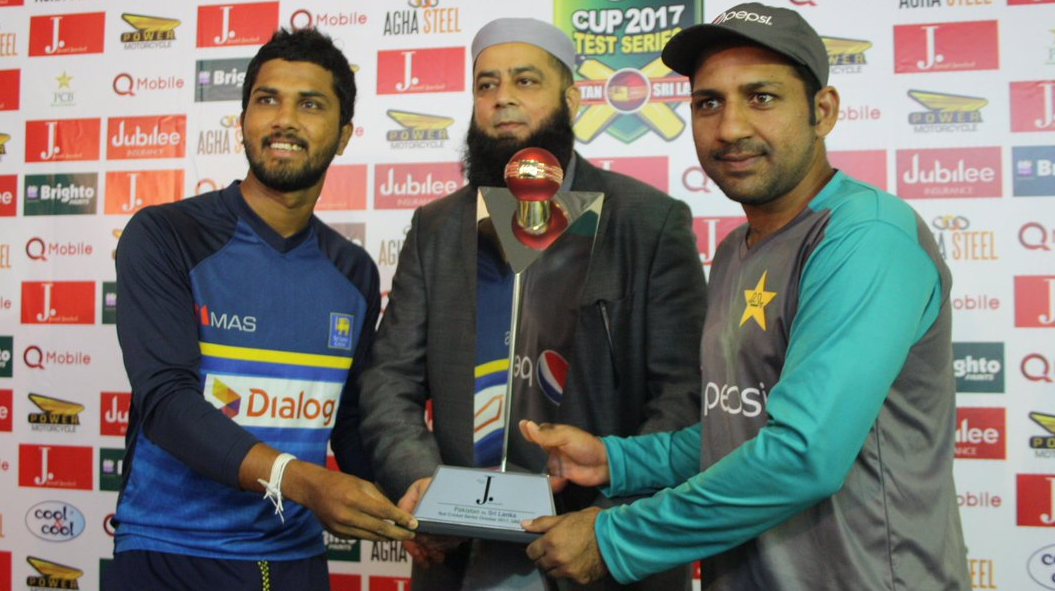 Sri Lanka's Test skipper Dinesh Chandimal and Pakistan captain Sarfraz Ahmed with the Test series trophy. © PCB
Sri Lanka and Pakistan are in the United Arab Emirates for a two-match Test series, a five-match ODI series and a three-match T20 series, with the final T20 match slated to be played in Pakistan.
The series begins in Abu Dhabi with the first Test on September 28, while the second Test will see Sri Lanka play their first-ever day-night Test match on October 6 in Dubai.
The ODI series — played entirely under lights — gets underway in Dubai with the first match on October 13. The teams then travel to Abu Dhabi for the second and third ODIs, which take place on October 16 and 18, while Sharjah will play host to the final two matches on October 20 and 23.
Abu Dhabi will host the first and second T20 on October 26 and 27, with the final match to be played in Lahore on October 29.
Fixtures
Sep 28 – 1st Test – Sheikh Zayed Stadium, Abu Dhabi
Oct 6 – 2nd Test – Dubai International Cricket Stadium, Dubai
Oct 13 – 1st ODI – Dubai International Cricket Stadium, Dubai
Oct 16 – 2nd ODI – Sheikh Zayed Stadium, Abu Dhabi
Oct 18 – 3rd ODI – Sheikh Zayed Stadium, Abu Dhabi
Oct 20 – 4th ODI – Sharjah Cricket Stadium
Oct 23 – 5th ODI – Sharjah Cricket Stadium
Oct 26 – 1st T20 – Sheikh Zayed Stadium, Abu Dhabi
Oct 27 – 2nd T20 – Sheikh Zayed Stadium, Abu Dhabi
Oct 29 – 3rd T20 – Gaddafi Stadium, Lahore
© Island Cricket