By Rex Clementine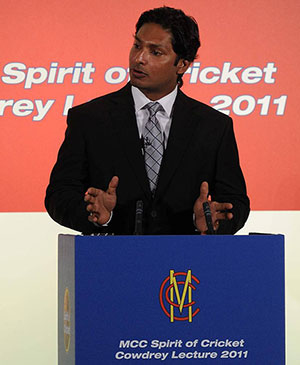 July 6, 2011 (Island Cricket): He may have not scored a hundred at Lord's, but star batsman Kumar Sangakkara received a standing ovation at the Home of Cricket, when he stunned the audience during the 11th MCC Cowdrey Lecture at Lord's on Monday.
Sangakkara's speech lasted for more than an hour. He spoke on how the sport developed in Sri Lanka over the years and the immense pride he has in representing the country.
At the conclusion of his speech, Sangakkara received a standing ovation from the audience that numbered close to 1500 consisting Marylebone Cricket Club (MCC) members, invitees, family members of Lord Cowdrey, some Sri Lankan expatriates and members of the media.
Summing up his speech, master of ceremonies Mark Nicholas said, "You are a hard act to follow, sir. Many congratulations. We are all struck by the immense pride you have in your land and of your people and we are humbled by your brilliance of your language and your use of it."
"We are struck by your messages. Archbishop Desmond Tutu received a standing ovation and you have matched it."
"If Adam Gilchrist hadn't been born, I think you would have been considered the greatest wicket keeper batsmen in the world but it's tight. But certainly the greatest lecturer of them all Kumar Sangakkara," Nicholas added.
Listen to Sangakkara's speech at Lord's.