By Richard Book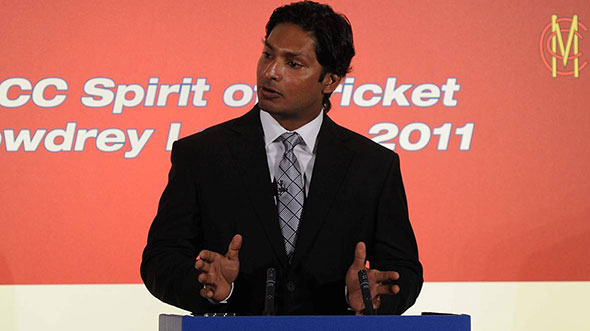 Kumar Sangakkara's speech at Lord's last week has received praise from all corners of the globe. © MCC.
The message came in the middle of the night via the social media site, Twitter. From a British woman who knows her cricket, it simply said "Kumar Sangakkara is making me cry."
The immediate thought was that this most graceful of Sri Lankan batsman was once again putting the English to the sword, probably on the way to yet another massive century. But, no. Sangakkara wasn't even batting. He was delivering the annual Cowdrey Lecture at Lord's.
Streamed live on the internet last week, it's fair to say Sangakkara's address galvanised listeners in a way few others could manage. The standing ovation he received at its conclusion was apparently the equal of the one Desmond Tutu received at the 2008 event. It's not hard to see why. This was about more than just the spirit of cricket; it was about the spirit of humanity. In such volatile times, Sangakkara reminded us again why we choose to play games.
It's easy to forget what some folk have been forced to go through in the name of sport. Sangakkara remembers the 1983 race riots, when his father sheltered 35 Tamil friends from "goon squads", at great personal risk. There were the violent, JVP-led communist insurgencies, and eventually a full-scale civil war. His first cricket coach was shot. Charred bodies on the roadsides and floating corpses in the river, he recalled, were "terrifyingly commonplace".
Through all of this upheaval, however, cricket endured. Sangakkara spoke of how the sport managed to transcend war and politics and bring otherwise disparate groups together. Cricket was a unifying force for his war-torn island nation. Eventually, the no-balling of controversial spinner Muttiah Muralitharan during the 1995 Boxing Day test in Melbourne achieved what no one had managed since independence in 1948. It united the entire country.
It's true, people like to scoff at the banal insignificance of sport. With all due respect, they seem to deliberately miss the point. As Sangakkara's address so powerfully explained, it's the thrill of competition, the sharing of minds and the overall camaraderie that provides the greatest value. It's much harder to hate people who you've learnt to understand, after all. Familiarity's a powerful weapon when used against bigotry.
Sangakkara said he watched in the mid-1990s as the Sri Lankan team proved to their fans that ethnic and religious differences could be put aside for the greater good. The 1996 world cup winning side became a national example of progress; a "microcosm" of inclusion and harmony held up as a model for all communities to emulate. In other words, far from being a trifling or over-rated indulgence, sport in Sri Lanka helped spark profound change.
"The 1996 world cup win inspired people to look at their country differently," said Sangakkara. "The sport overwhelmed terrorism and political strife; it provided something that everyone held dear to their hearts, and helped normal people get through their lives. Fighting for a common national cause representing the entirety of our society, provided a shining example to every Sri Lankan. Regardless of war, here we were playing together."
Those in attendance last week were reportedly spellbound by Sangakkara's account. When you listen to his anguished descriptions of rushing home from New Zealand after the lethal tsunami of 2004, and the terrorist attack on the Sri Lankan team bus in Lahore in 2007, it's easy to understand why. He even went close to channelling CLR James when lamenting that life was not cricket: "If it were we would not have seen the festering wounds of an ignorant war."
People are still talking about that speech. Certainly, the Sri Lankan authorities are, after Sangakkara dared to bemoan his nation's politically-tied cricket administration, ostensibly ruled by the standing government's minister of sport. The hair-raising accounts of cronyism, vote-buying, corruption, and even violence and fist-fights at meetings have received a predictable response from home. Sangakkara is to be investigated, but not his allegations.
"Unless the administration is capable of becoming more professional, forward-thinking and transparent then we risk alienating the common man," he said. "Indeed, this is already happening. Loyal fans are becoming increasingly disillusioned. This is very dangerous because it is not the administrators or players that sustain the game, it is the cricket-loving public. It is their passion that powers cricket. If they turn their backs on it then the whole system will come crashing down."
Needless to say, Sri Lanka Cricket's huffing and puffing over those comments have dominated the subsequent news coverage of Sangakkara's lecture, quickly swamping his core message about spirit, tolerance and harmony. It's a shame. Not many world-class athletes have his wider perspective on the industry, let alone the same courage of conviction or the willingness to speak up. His thoughts on the power of play should never be forgotten.
People who dismiss sport as immature and meaningless would do themselves a favour by listening to a recording. As Sangakkara noted, the need to put aside class, politics, race and creed in order to break bread with your countrymen and women is a good enough reason alone. That we then replicate the process when playing against opponents from other regions, countries and cultures can only lead to more understanding within the global village.
Sangakkara's final words at the Cowdrey Lecture spoke volumes about why sport often succeeds where other diplomacy efforts falter. No wonder the MCC members were on their feet applauding. "All for one, and one for all" has never been put so eloquently: "I am Tamil, Sinhalese, Muslim and Burgher," he concluded. "I am a Buddhist, a Hindu, a follower of Islam and Christianity. I am today, and always, proudly Sri Lankan." Well said, that man.
The above article was first published on The Sunday Star Times in New Zealand. It is republished here with permission from the author.