By AFP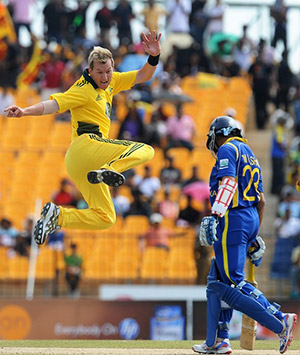 August 15, 2011 (AFP): Sri Lankan batsman Kumar Sangakkara urged teammates to lift their game ahead of a must-win match on Tuesday in the one-day series against the visiting Australians.
"Another batting failure and we are now left with lots to do to keep the series alive," former captain Sangakkara wrote on his blog on Monday, after Australia pulled off an easy eight-wicket victory in the second one-day game on Sunday.
"We need to somehow re-group tomorrow (Tuesday)," he said.
Sangakkara, who top-scored for Sri Lanka with a patient 52, added 63 for the fifth wicket with Angelo Mathews (35).
Former Australian skipper Ricky Ponting cracked an impressive 90 not out while captain Michael Clarke made an unbeaten 58 as the visitors surpassed Sri Lanka's total of 208 with more than 11 overs to spare for a 2-0 lead in the five-match series.
"The Aussies have been able to apply sustained pressure on our batsmen and our inability to post competitive totals means that we have not been able to do the same to their batsmen," Sangakkara said.
He said Ponting, Shane Watson and Clarke batted through both matches "without the pressure of a challenging 'required run-rate'".
In a blog post vice-captain Mathews said Sri Lanka needed to "tough it out" on Tuesday.
"There?s no longer any margin for error to keep the series alive and we need to collectively stand up to the challenge that awaits us tomorrow (Tuesday)," Mathews said.
Meanwhile, Ponting told reporters on Sunday that his batting has improved after giving up the demanding captaincy role following Australia's exit from the World Cup in April.
"It probably has, to tell the truth," 36-year-old Ponting said. "The World Cup probably didn't go to plan as I would have wanted."
Ponting said he was enjoying just being a player.
"There's no doubt for me to be able to turn up to training and focus on my batting and my fielding only has been nice," the right-hand batsman said.
"I've been able to just be that little bit fresher I think and I've felt in control the two games I've played here (Sri Lanka) so far. Hopefully that continues for the rest of the tour."
Australia lost the two-match Twenty20 series to Sri Lanka and the two sides will also play three Tests.
© AFP