By Rex Clementine | November 28, 2010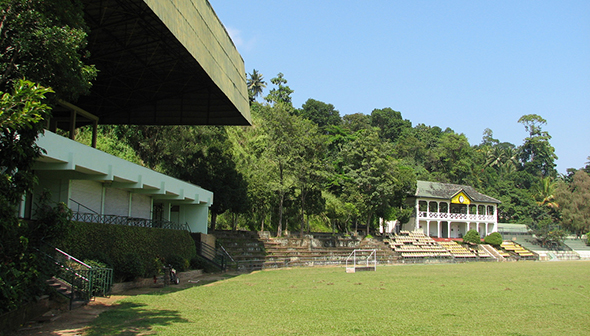 Test cricket to be shifted from the picturesque Asgiriya Stadium in Kandy to the new Pallekele Stadium. © Philbeth.
With Test cricket in Kandy now shifting to Pallekele, it becomes vividly clear that the Asgiriya International Cricket Stadium, the venue for some thrilling contests in the past, several historical moments of Sri Lankan cricket, and of course more than one heartbreak, will cease to host international matches.
Asgiriya Stadium, private property of Trinity College, Kandy, is a mere 10 minute walk from the centre of the city, and usually when an international team toured Sri Lanka, a Test Match would always be played at this venue.
Asgiriya became the second Test venue in Sri Lanka after the P. Saravanamuttu Stadium when it hosted Greg Chappell's Australians in 1983.
From thereon, Test Matches were played at the venue regularly, and the last Test Match to be played there was three years ago when England toured. Sri Lanka went on to win that Test, and more importantly Muttiah Muralitharan claimed his 709th Test wicket to go past Shane Warne as the highest wicket taker in Test cricket.
Sri Lankan captain, Kumar Sangakkara, an old boy of Trinity College, grew up playing his cricket at Asgiriya, and regretted not having the chance of playing international cricket at his school ground in the future.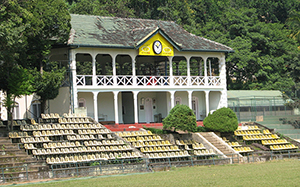 "I love playing at Asgiriya. It is a fantastic cricket wicket, and it has produced great results. If you bat first, you lose four or five wickets by lunch, and then it settles down and it starts turning," Sangakkara, who scored a match winning 152 in the last Test played at the venue, said.
With Sri Lanka Cricket deciding to shift all international cricket to Pallekele, about 15 kilometers from Kandy town, Sangakkara was confident that a newer tradition will begin at the new venue, but was hopeful Asgiriya will get the occasional international match.
"It is something that cannot be controlled. Hopefully, one day, Test cricket can be played at both grounds.
"I had a magical experience growing up [playing cricket there] and there were some great coaches too. And finally to play a Test Match at Asgiriya was even better. [I have] a lot of good memories of Trinity and Asgiriya, but life goes on.
"Hope we can have a newer tradition at Pallekele and start off on a real positive note," Sangakkara added.
To upgrade Trinity College's cricket ground to international status was an idea of former Chairman of the Board of Control for Cricket in Sri Lanka, Gamini Dissanayake; it was one of the ICC requirements when Sri Lanka were granted Test status to improve the infrastructure of international venues.
Trinity is considered the first and only school to own a Test venue, and the ground played host to some thrilling and memorable contests.
In 1994, Wasim Akram and Waqar Younis finished off a Test inside three days when Pakistan won there by an innings and 52 runs.
In fact, it took Sri Lanka 15 years to record their first Test win there since the ground first hosted a Test Match. Sri Lanka's first Test win at Asgiriya came in 1998 against Zimbabwe. But more success soon followed as Sri Lanka won their first Test against Australia the following year. Thus far, it remains the country's only Test win against Australia; a game remembered for the dreadful collision between Steven Waugh and Jason Gillespie. Both players had to be airlifted to Colombo for medical treatment after being seriously injured. Waugh broke his nose while Gillespie had a broken bone in his shin.
The ground also hosted some of the tightest and ugliest Test matches to be played on this soil.
In 2000, the touring South Africans went onto win the second Test there by just seven runs after being thrashed in Galle by an innings. Next year, England went on to win by three wickets having also lost the previous Test in Galle by an innings to the hosts. This was the Test Match where several players were penalised for bringing the game into disrepute, and the then Sri Lankan captain, Sanath Jayasuriya, is remembered for smashing his cricket equipment before entering the dressing room after being given out. In the same Test, Sangakkara missed his maiden Test hundred when he gave Robert Croft the charge on 95 and was stumped by Alec Stewart.
Asgiriya also hosted the 1996 World Cup fixture between Sri Lanka and Kenya when the hosts went on to pile up a mammoth 398; a World Record at the time.
In all, Asgiriya hosted 22 Test Matches and Sri Lanka has won seven of them.
The newly constructed venue at Pallekele will host several matches in the upcoming World Cup, and with its modern facilities will certainly be a favourite among the players and spectators.
However, it will take some time to replace the character and uniqueness of Asgiriya, where the good, bad and of course the ugly was witnessed.