By Rex Clementine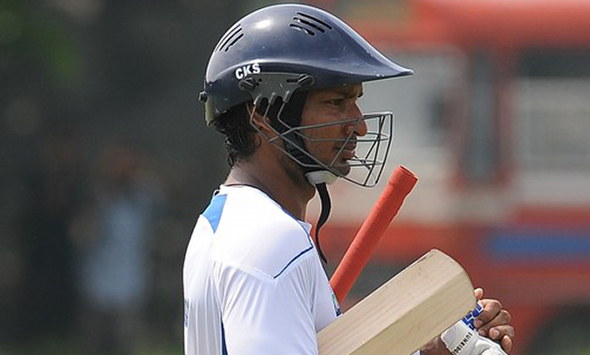 Kumar Sangakkara is seen during a practice session at the Galle International Cricket Stadium in Galle on November 14, 2010. AFP PHOTO/Lakruwan WANNIARACHCHI.

November 15, 2010 (Island Cricket): Sri Lanka's captain, Kumar Sangakkara, called on his team to focus on playing the longer version of the game after all the euphoria following the team's first ever series win in Australia.
Less than a week after arriving from Australia, Sri Lanka will go in for a Test series with the first Test against the touring West Indies starting today at the Galle International Stadium.
"Winning habits are good, but we've got to understand that this is a different format of the game. This is a five-day game and the time is very important and batting and bowling in long partnerships is going to be always the key in Test cricket. That's why people enjoy playing in this game," Sangakkara told journalists yesterday.
It will be the dawn of a new era for Sri Lankan cricket as they play their first series against the West Indies without Muttiah Muralitharan or Chaminda Vaas, a deadly combination that accounted for more than 1,000 Test wickets over a 16-year period. Sangakkara was confident the young players who have come into the side will rise up to the occasion.
"We don't have the likes of Vaasy or Murali any more. So attack and penetration that we have now is very different. But the bowlers whom we have in the squad will really enjoy the challenge of trying and stepping into those big shoes and try to win matches for Sri Lanka," the Sri Lankan captain added.
"We have three spinners who are very capable bowlers. We have Mendis, Herath and Randiv and all of them have been very impressive in everything they have done. More they play the stronger they become and I think Sri Lanka spin is in very good hands," Sangakkara further said.
Although not very many people are giving the West Indies a chance, Sangakkara said that the tourists are taking some positive measures to get back into track. "I think the West Indies are on their way back. They've sorted out lot of things under their new coach and they've taken some tough decisions. That shows that they are determined to make a mark. We're going to look at them as very tough opposition and try and concentrate on playing as best as we can."