By Hilal Suhaib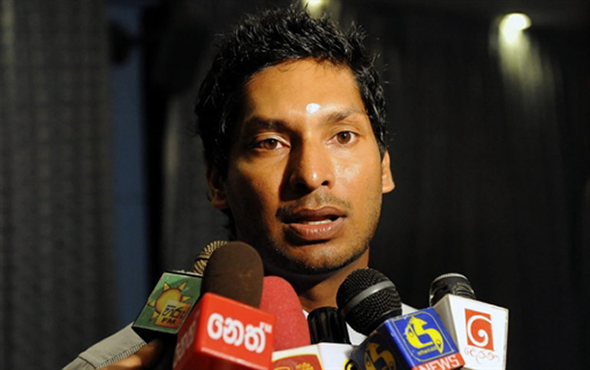 Sangakkara calls on all Sri Lankans to turn up in their numbers for every World Cup game played in Sri Lanka. AFP PHOTO/Ishara S. KODIKARA.
October 21, 2010 (Island Cricket): Sri Lankan skipper, Kumar Sangakkara, encouraged fellow Sri Lankans to support the upcoming ICC Cricket World Cup by ensuring that the stands are packed even for games that don't involve the co-hosts, Sri Lanka.
"The opportunity to watch a World Cup event on home soil doesn't come around very often and for many people it will be the only chance to see some of the greats of international cricket play in Sri Lanka," Sangakkara said speaking on the day that tickets went on sale in Sri Lanka.
"While I am confident that we will have some fantastic support from our spectators, I would also encourage fans to sample the World Cup experience and watch matches involving other teams as well.
"Having played many times against exciting players such as Shahid Afridi, Umar Akmal and Umar Gul, I am sure there will be a lot of interest in the Pakistan team's matches in our country," he added.
Sangakkara said that he was pleased to note that tickets were priced "at a level that spectators will find affordable".
Tickets for the 12 games in Sri Lanka, which will take place between 20 February and 29 March 2011, went on sale today (Thursday) and cricket fans that make reservations, will be able to collect their physical tickets during the first week of February 2011.
Reservations can be made in Kandy at the Pallekele International Cricket Stadium, and in Hambantota, at the Mahinda Rajapaksa International Cricket Stadium. In Colombo, fans can ensure their places via the official ICC Cricket World Cup 2011 Secretariat at the Sri Lanka Cricket Headquarters (35, Maitland Place). Tickets can also be purchased online via www.iccevents.yahoo.com.
Ticket prices range from Rs.30 to Rs.2500 with corporate enclosures available for Rs.5,000 or Rs.10,000 and an individual can purchase a maximum of four tickets. A number of tickets will be made available to school children so that they can share in the excitement around the ICC's flagship event. Veterans of the recently concluded civil conflict will also receive tickets.
Sri Lanka will stage matches at three venues. The Pallekele International Cricket Stadium near Kandy has a capacity of 25,000, while the Mahinda Rajapaksa International Cricket Stadium in Hambantota and the R Premadasa International Cricket Stadium in Colombo, will have the ability to host to 27,000 and 30,000 cricket fans, respectively.
Note: Sri Lanka is an official co-host of the ICC Cricket World Cup 2011 alongside India and Bangladesh. Sri Lanka will host 12 matches, including one quarter-final and one semi-final.