By Rex Clementine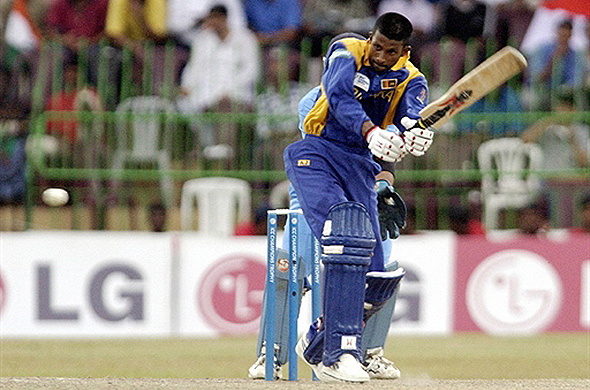 Russel Arnold in action during the ICC Champiom Trophy final match between Sri Lanka and India at R. Premadasa stadium in Colombo 30 September 2002. AFP PHOTO/RAVEENDRAN.
December 5, 2010 (Island Cricket): Former Sri Lanka middle-order batsman, Russel Arnold, who played in two cricket World Cups (2003 and 2007), believes Sri Lanka will be one of the two main contenders to win the title next year.
Arnold, who finished his level three coaching certificate in Australia recently, is currently on the Ten Sports commentary panel, commentating on the ongoing West Indies-Sri Lanka Test series.
"I have been settling into coaching. I finished my level three coaching certificate with Cricket Australia and looking to gain some experience and take things from there," the 37-year-old said.
The former St. Peter's College cricketer has interests in coaching as well and believes he can emerge a successful cricket coach.
"I guess I am good at mentoring youngsters since I know the game well. I had lots of ups and downs as a cricketer so I think it's an advantage in relating to most cricketers," Arnold added.
Arnold was a key member of Sri Lanka's World Cup squad in South Africa and West Indies and ended his career on a high note having played in a World Cup final in Barbados in the last World Cup.
He said playing in a World Cup was the high point for a cricketer, but was disappointed not to win a championship.
"Playing in a World Cup is what we look for as a cricketer. It's the ultimate prize. Going back to those World Cups, we thought we would have had a good chance provided we played well. It's a bit disappointing that we didn't get over the line, but then that's how it goes. Four years down the line, we have a good team of youngsters and experienced guys gelling well. I would say, easily, Sri Lanka is one of the favourites to win the title, along with India.
In both World Cups, Sri Lanka's impressive run came to an end against Australia, the eventual champions. In 2003, Sri Lanka lost the semi-final in Port Elizabeth in conditions that were expected to favour them.
"The 2003 World Cup was a tough one. We did really well to contain them and thought we had a good chance. The Australian team was a champion outfit and they hit us hard. We were lot of wickets down next to nothing and we just fell apart," Arnold added.
Arnold announced his retirement from international cricket after the World Cup semi-final against New Zealand in Jamaica and the World Cup final in Barbados against Australia was going to be his last. He would have expected to go on a high note, but a whirlwind hundred by Adam Gilchrist took the game away from the Sri Lankans.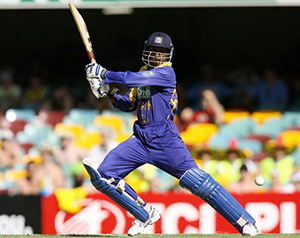 "Gilly hadn't had a great series up to then. He just walked in hoping to slog everyone and he slogged it well and it really hurt us. Then again the weather too was to our disadvantage. I guess that's how it goes. They had done enough on the back of Gilchrist's innings to be ahead of us at that stage. It was unfortunate to lose out. But what could you do? I guess we gave it a good shot."
The 2007 World Cup was criticised due to its duration and the format and since then the administrators have thought of ways to address some of the issues. Arnold felt that it would be difficult to conduct a perfect tournament.
"Even this tournament is still going to be a long one and the format has gone [back] to the one in 1996. They are trying to tinker with it all the time, but there will be always shortcomings. We are not going to have a perfect thing. Things work differently in different parts of the world; I don't think you can hit a proper formula there."
He expected Sri Lanka to continue their recent good run in the World Cup and to go all the way and felt India could post the biggest challenge for them during the tournament.
"We have got a very good chance in the World Cup. Our biggest threat would be India and I believe it will be a semi-final. We should make a quarter-final and from thereon it's going to be a do-or-die affair. We've got the quality, men, variation and option to do really well. At the end it comes to execution and carrying out your plan and the senior players will have a big role to play."
During his tenure as a Test cricketer, Arnold played alongside Muttiah Muralitharan at a time when the latter was at the peak of his career. Now that Muralitharan has retired, Arnold said Sri Lanka's selectors needed to be patient with the younger players who are coming through.
"We can't expect from others what Murali does. We have to expect them to perform as a combination. We have good bowlers coming through and have options of spin bowlers. What we shouldn't forget was that Murali was patient. He had plans and he stuck to them. He used to bowl lots of overs, lots of dot balls and that's how he created pressure.
"We've got the guys to do it, but what they are doing is they are rushing it a bit. They are looking for results and they are changing things little too quickly. But then again our record hasn't been too bad. We are still winning and we are still putting teams under pressure. But if we are to take the next step with our bowling group, I think more patience needs to be shown by the bowlers and the captain."