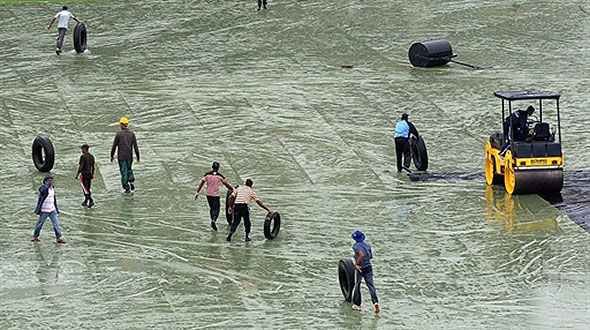 Sri Lankan groundstaff remove the covers from the playing surface at The Suriyawewa International Cricket Stadium in the southern district of Hambantota on December 9, 2010, Sri Lanka Cricket has postponed the one-day and Twenty20 series against the visiting West Indies because of heavy rains. AFP PHOTO/Lakruwan WANNIARACHCHI.
December 11, 2010 (Island Cricket): The decision to postpone the ODI leg of West Indies' 2010 tour to Sri Lanka has turned out to be a costly one for Sri Lanka Cricket (SLC). Reports say, SLC is likely to pay a large sum of money to broadcast rights holders, Ten Sports, for the loss of revenue due to the postponement of the series. The figure could be as high as $500,000, according to a report on the Daily Mirror newspaper in Sri Lanka.
Just hours before the start of the first ODI in Hambantota, SLC announced that the series was postponed for next month. Although the decision was practical, as prevailing weather conditions were not conducive, the broadcaster appears to have been unhappy with the move. It is unclear if the home board would have been liable for the same figure had the series been allowed to carry on resulting in a total washout.
"Ten Sports had also shown an unofficial reluctance to cover the matches in view of the unfinished state of the ground," the Daily Mirror reported today.
The postponement and the mammoth financial loss for SLC appears to be to it's television partner's gain.
The paper goes on to say the West Indies team were also unhappy with the "limited facilities" at the incomplete World Cup venues which are is still under construction.
In a statement, SLC said the decision to postpone the series was "taken with the mutual understanding of both cricket boards and our television partners".
© Island Cricket