By Rex Clementine | December 11, 2011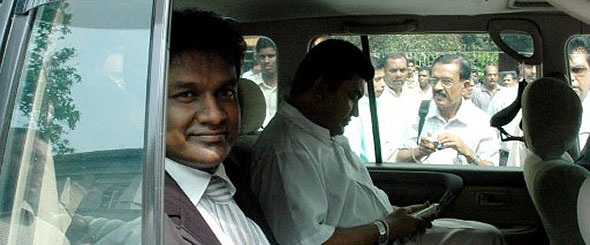 Thilanga Sumathipala will contest in the upcoming Sri Lanka Cricket elections. © AFP/File/Lakruwan WANNIARACHCHI.
Despite speculation that parliamentarian Thilanga Sumathipala will not contest this year's cricket elections, there was confirmation from the four-time chief of Sri Lanka Cricket yesterday that he will contest the January 3rd elections, the first to take place in seven years.
"There is an overwhelming request from the cricket membership for me to contest the elections and I can not turn it down," Sumathipala told the Sunday Island yesterday.
The 45-year-old's team will comprise experienced cricket administrators such as Nuski Mohammad (for the post of treasurer), Mohan de Silva (vice-president), and Michael de Zoysa (secretary); Irwin Jayawardene will also feature in his team, Sumathipala said.
He also added that negotiations were on with former board chairman Ana Punchihewa to fit in as one of the two vice-presidents. However, Punchihewa said that he is for both Sumathipala and Upali Dharmadasa to come together and form one team without competing for positions.
Sumathipala denied rumours that there were requests from the government for him not to contest this year's elections.
"I have my respect for the minister of sports [Mahindananda Aluthgamage]," Sumathipala said. "When he appointed an Interim Committee, he said in six months time there will be an election and true to word, he has now called for elections – I don't feel the honourable minister will interfere in anyway."
Dharmadasa, meanwhile, said that he is having discussions with a former cricketer to join his camp to contest the post of vice-president. The former board president did not disclose the name of the ex-cricketer.
Former interim committee secretary Prakash Schafter, who was to contest for the post of secretary alongside Dharmadasa, said that he was still contemplating whether to contest the elections or not. If he withdraws, another former interim committee secretary Kangadaran Mathivanan will come forward as the secretary. Earlier, Mathivanan was to contest for the post of vice-president.
The final date to submit nominations is next Monday (19th of December).
© Rex Clementine/The Island