By Gaurav Gupta (TNN) | March 7, 2011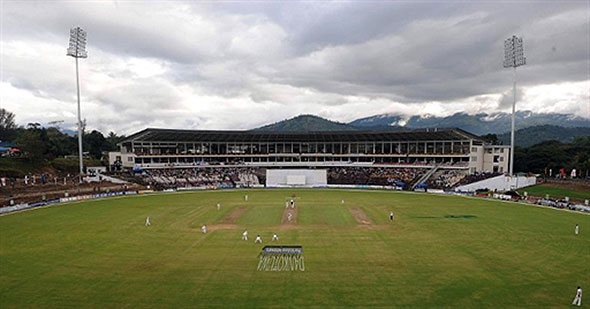 The Pallekele Stadium pictured here during the third Test between Sri Lanka and West Indies on December 1, 2010. © AFP/Lakruwan WANNIARACHCHI.
This World Cup has provided Sri Lanka with superb opportunity to showcase their latest cricket infrastructure. While Hambantota on February 20 revealed the Mahinda Rajapakse Stadium, Tuesday's Pakistan-New Zealand game will provide ODI cricket with it's latest venue – the Pallekele International Cricket Stadium, which is situated in a hilly region close to Kandy. Like the stadium in Hambantota, this one too pops out of nowhere amidst a green, hilly stretch.
Fittingly, since it is in Kandy, the home town of Sri Lanka's favourite cricketer-Muttiah Muralitharan, the structure was named after the legendary offie in July last year. Kandy was a regular Test venue till 2007, and would host its games at the Asgiriya Stadium. Due to certain local problems there, Sri Lanka Cricket decided to abandon that ground and build a new facility of its own.
Lakshman Kiriella, a former Deputy Minister of Foreign Affairs, played a key role in initiating the idea of this stadium.
The task of building the facility was given to the State Engineering Corporation of Sri Lanka, and the stadium was designed along the lines of SuperSport Park in Centurion, South Africa. That becomes apparent when you see various grass embankments near the boundaries!
The stadium can hold around 35,000 spectators, and it cost roughly Rs 450 million to build it. Interestingly, this venue already holds a unique record. It staged its first ever Test match in December last year, and guess what happened. West Indies opener Chris Gayle was dismissed off the first-ever ball bowled on this ground, by Sri Lankan seamer Suranga Lakmal.
From Tuesday, this venue will hold three games, with the last one being on March 14 between Pakistan and Zimbabwe, before World Cup action shifts back to Colombo in Sri Lanka.
In a reflection of the cricket culture in this country, it has been made clear by the authorities that this stadium, which was declared open on November 27 last year, will host not just international cricket, but schools cricket too. The fact that it would cater to schools and club cricket in the Central Province was one of the major reasons why it was built.
Being situated in a hilly region, this venue is likely to stretch the cricketers' stamina a bit more. It could well be a similar to football being played in La Paz, the capital of Bolivia, which is located on a high level.

Courtesy of Times News Network