By Gary Naylor | January 13, 2018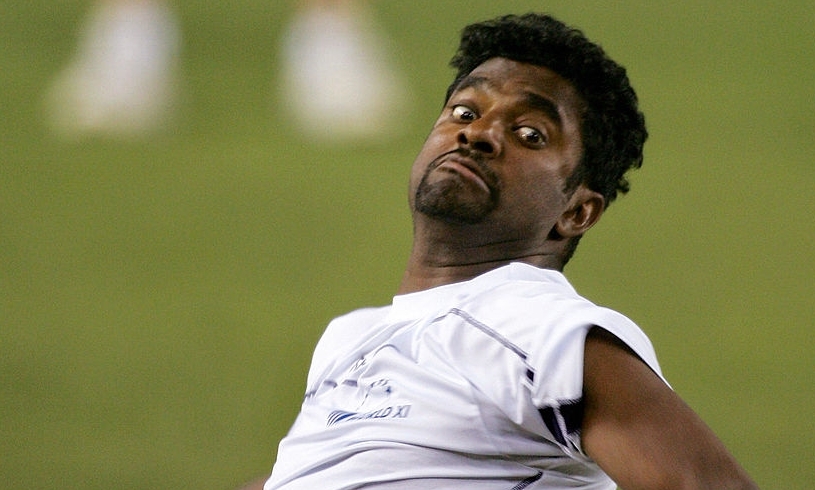 When my younger boy was six or seven years old, his favourite cricketers were not Freddie Flintoff nor Kevin Pietersen (though he did like the unkempt Matthew Hoggard). When cricket was on the television (most of the time in our house), he would only ask me about two players: "Malinga the Slinga" and "Murali". The attraction to the quick was easy to see; the wild hair, the stump-exploding yorkers, the ritual of kissing of the ball at the top of the run up — he was a star. It was, as most things are when it comes to Murali, more complicated with the spinner.
In a six year old's world, you're always looking up at faces, and so too did the diminutive Lankan; a man of below average height in a game not short of giants. Then there was the gentle approach to the crease — anyone could do that, and my boy did playing backyard cricket in Sweden. And Murali topped off this great pantomime with his eye-rolling, eye-bulging, eye-catching face, the gurnings of a clown, that made my boy laugh. He loved these eccentricities that he would delight in performing for me with tennis ball in hand.
But perhaps there was something deeper going on too. Instinctively, my boy connected with Malinga and Murali because they were like him; two bowlers who did not play the game with the grim demeanour of those who have spent too much time being coached, too much time thinking about executing skills, too much time undergoing remedial work on injury-avoidance. One bowled fast and the other bowled spin because they were good at it and they enjoyed it. In the world of the six-year-old, they're the things that matter. In cricket, as in life, one should never lose the joy of a child's wonder at just what he or she can do. Malinga and Murali never did.
My view of Murali was, of course, more developed and more nuanced, but always refracted through my appreciation of someone who appeared to love life and the game when he had been given plenty of opportunities to reconsider those views by men taller in stature, but so much smaller in spirit.
I'd seen some footage and read a little about Sri Lanka's sensational new spinner with the unique action, but it was the one-off Oval Test (plucky Ceylon Sri Lanka were not deemed worthy of even a three Test series with the ex-colonial masters in 1998) that introduced English fans to the phenomenon. Perhaps that's a little unfair on the ECB because the fixture list would have been planned before Sri Lanka's extraordinary 1996 World Cup triumph, including a chastening shredding of England in the quarter-final.
The hosts piled up 445 on a typically flat, drying out, late August pitch but Sanath Jayasuriya was quickly into his work and, with the support of Aravinda de Silva at his artistic best, by the end of the third day, the visitors were already in front. Cue Murali, who added 9-65 to his first innings 7-155 as England propped and prodded before they were polished off with a blizzard of by now familiar Jayasuriya boundaries to go down by 10 wickets.
I recall that smartest of cookies, Arjuna Ranatunga, being asked why he had invited England to bat on a plum pitch and he just looked his interlocutor in the eye and said: "I wanted to give Murali enough time to bowl England out twice." My father, watching television with me, snorted: "He knows more about the game than all the England team put together!" He did — and that included when to play his ace in the pack.
The match illustrated an oft understated aspect of Murali's genius — his appetite for hard work, physically and mentally. He bowled 60 overs in England's first innings and 55 in the second, pushing the line as ever with the front foot, but with barely a long hop nor a half volley on offer, hour after hour.
Behind what every writer on Murali is obliged to call his ever cheerful demeanour, lay a fierce concentration and competitive streak no less driven than Ranatunga's, if less obviously combative. Everyone knows Murali has the most Test wickets in history (800), a mark likely to last forever, but he also bowled the most deliveries; a full 3189 more than the next man on the list, Anil Kumble, a gap pushing up to 10 per cent. Considering his record in all international cricket, he finished 7786 balls ahead of the Indian leg-spinner, a massive margin of over 14 per cent. Murali's career is not just a remarkable story of achievement, but also one of endurance and resilience.
And he had to call upon that resilience both on and off the field in circumstances that would have broken lesser men. Watching television in 1999 when, in a one-dayer against England at Adelaide, umpire Ross Emerson decided to call Murali for throwing, and it's hard to argue with the anger and disdain of Ian Botham on commentary here. Murali (and cricket) showed itself to be bigger than the ego of one man with a system (already in place then and not "designed for Murali" as some would have you believe) that uses biomechanical technology to identify bowlers with issues and support them through rehabilitation programmes. The kind of humiliation suffered by Murali 20 years or so ago is now firmly in the past.
[ Video: Steve Waugh reflects on the 'demeaning' treatment meted out to Murali in Australia ]
If that was a test of one kind of resilience, another test, more terrible than anyone could have imagined, was to visit Murali five years later. I was in Sweden and trying to translate the news broadcasts and teletext pages into English to find out exactly what was happening with the tsunami that crossed the Indian Ocean on Boxing Day 2004. I recall saying something mundane to my kids, like "It looks like it's pretty bad", before the casualty count started to rise horribly, the figures dwarfing any mental picture one could conjure in our cold home.
For Murali, that emerging news was both a tragedy for his country and for his community (Murali was the highest profile Tamil in cricket, arguably on the ethnically divided island, and Tamils were hit hard). But it was also a call to action. He, with the help of team-mates like Mahela Jayawardene and Kumar Sangakkara, did not choose to record a fundraising song or organise a charity match; he drove trucks with supplies through difficult terrain to devastated villages, applying the stamina that delivered all those overs at The Oval to helping those in the direst of need. He made a difference.
As his career becomes a matter of history, freakish figures at the top of so many statistical tables, unassailably so in many cases, the man must not be lost to the myth. I saw him at Lord's playing for Lancashire, where he was a popular and successful member of the Red Rose team. It wasn't his best day, the ball turning too often too far from off to leg with the great man curiously reluctant to go round the wicket. But I saw the fastest of arms. the whirring wrist and the expectant crouch as the batsman fumbles forward to locate the fizzing ball.
And I saw the grin that so enchanted my kids — a man playing a man's game with a man's cares and responsibilities, but with the delight of a boy. Not a bad way to live a life.
Gary Naylor writes a weekly column on county cricket for the British newspaper The Guardian and writes theatre reviews for Broadway World
© Island Cricket