By Ganeesha David

Sri Lanka's new Chairman of Selectors Duleep Mendis (L) and recently appointed Sports Minister Mahindananda Aluthgamage (R) caused controversy for allowing the BCCI-SLC relationship to strain due to the lack of foresight in their decision making. AFP PHOTO/Ishara S. KODIKARA.
April 30, 2011 (Island Cricket): Sri Lanka Cricket (SLC) has become a spectacle, a soap opera, a shame. The Sports Minister first put his 'hoof' in his mouth by recalling players from the Indian Premier League (IPL) without checking their agreements. Now, a fearless late night TV show is causing sensations around the country, lavishly uttering the un-utterable. Then, a former skipper, who has never been known to take a step back; taking on the mighty Aussies, umpires and the administration in his day, has virtually put his life on the line for the betterment of his beloved sport. Finally, selectors recall celebrated fast bowler Lasith Malinga for rehabilitation and he retires from Test cricket instead. The news media is jubilant with all the controversial content to report!
Before the World Cup, the numbers which always attach itself to success flocked around the Sri Lankan cricketers with almost mythical belief that they will win the cup. The bubble burst. The disintegration then began with the injury of Angelo Mathews, for whom there is no replacement, except a gathering of bits-and-pieces players. Which is why, Suraj Randiv and Thisara Perera were opted for over Dilhara Fernando and Ajantha Mendis in the World Cup final.
Michael Roberts, in his hard-hitting hypothesis, grounded all these other unfounded and confounded theories that surfaced as gargantuan as a Tsunami.
Political interference is clear, but not to the level it is exaggerated by parties with vested and political interest, and sometimes little knowledge. At least not in the selection of the World Cup team. To some, the logic of the think-tank was apparent – dew, it has been discovered, played a main role.
Arjuna Ranatunga has taken this platform to reiterate what he has been saying, for god knows – loudly enough – for so long. He may be a tad over-subscribed in some notions, but the proliferating corruption, personal agendas and vendettas; currying favour and the grossly unqualified holding top posts has escalated to the point where a through shaking is required.
While countrymen are fully aware of what's going on at SLC and all medium highlight it, these individuals go on shamelessly.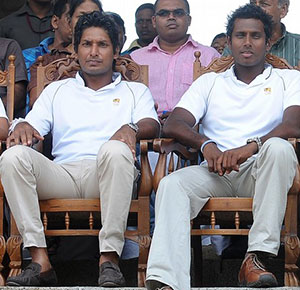 Kumar Sangakkara's body language, after the loss, was that of a stricken man. His bravado at the presentation interview was all gone.
Was it more disappointment than even the great Sangakkara could handle, or was it something else? It was part reason that added fuel to the circulating rumours.
Many a medium, both foreign and local, talked about the greatness of Sri Lanka's players to survive the psychosis of SLC for so long, and it is also fair to say that it's this very turmoil that shortens a skipper's life span. It is far more delightful for Jayawardena and Sangakkara to sit back, enjoy their batting and retire having achieved personal goals.
By Sangakkara's own admission, his resignation was selfish. He goes on to point out reasons like preparing for the next World Cup, etc, but everyone seems to have forgotten – there is other cricket to be played.
He could have given his notice after a year and a half, with Mathews functioning as his deputy, before taking over captaincy. Without disrespect, it must be stated that Mathews would have learnt a lot more from him than he would from Tillakaratne Dilshan. It was almost as if Sangakkara had an axe to grind with SLC and couldn't let the country down before the World cup, but after that, it was time.
IPL which is the bane of SLC and other smaller nations, has drained out talent and focus and enhanced only Indian cricket, giving their young a tremendous breeding ground.
The argument is that cricketers have a short work-span and should be allowed to earn these exorbitant bundles, even at the cost of the country.
The players have lost motivation, but one should not go as far as to label them greedy, as the priorities of everyone are different. Country before self is an old cliché. Ranatunga must be admired for not falling into that trap, but he falls into a very minute category.
The call by some captains to set aside two months every year for IPL to avoid this sort of issue is ridiculous. Other countries will subsequently get up to similar gimmicks and cricket will fragment. The IPL could possibly take players to their teams on a rotation basis and clear the decks for legitimate ICC tours. Of course, the kitty of the players will get split, but some sacrifices will have to be made all around, otherwise the standard of other cricket will begin to sink. The individual boards are powerless in this issue and the ICC must step in.
One can almost carry a grudge with India winning the World Cup. After all, their juniors most certainly had more exposure than all other teams put together.
Sri Lankan players are clearly picking IPL over England just as they did the last time. And by signing dateless NOCs, the players have conveniently not paid attention to the practice and warm up dates of the England tour. This is unacceptable. Certainly, Jayawardena and Sangakkara realise this and it is the reason they have requested their franchises for early leave.
Wanting the best of both world's is common now and its harsh to judge the cricketers on this too much. However it is a good opportunity for the public to remind them that country comes first and demand their pound of flesh.
Dilshan taking to the captaincy with gusto minus earring, and neatly trimmed beard and calmer hairstyle, is typical Sri Lankan stereo-typing. Ridiculous, righteous indignation over how he looks is as totally misplaced as the theory of match fixing in the final.
The new skipper has set the ball in motion leading by example, campaigning to have the team home early from the IPL. His captaincy, amidst a huge no confidence motion from authorities and fans, must be used as a weapon to challenge him to overcome his weaknesses and that of his team. His keenness at the job and enthusiasm at the unexpected opportunity of skippering his country might just well bring out the best in him.
Renegade fast bowler Lasith Malinga seems to have transformed into a role of a mercenary showman instead of a cricketer. The fact that he continues to bowl night after night at the IPL on a degenerative knee, and the theory that four overs per match can do no harm, does not hold water. He is helping showcase IPL by being its most flamboyant bowler and in the process reducing his chances considerably of playing for Sri Lanka.
It's a sad paradox for the young maestro who must be desperate to earn all he can before his knee literally gives way. SLC must look into his predicament and offer some solution. He has taken a crack at his former boss for sidelining him sometime back, but it is a badly kept secret that it was actually on disciplinary grounds.
An impasse must be sorted out for all this and the cricketers must not display their avarice so blatantly to the people. On the other, the President must clear the SLC stables, find the best men for the job, just like he did when fighting the war, and then sit back and watch them perform without interference.
© Island Cricket/Ganeesha David.