Farbrace unlikely to take on Sri Lanka coaching role
By Hilal Suhaib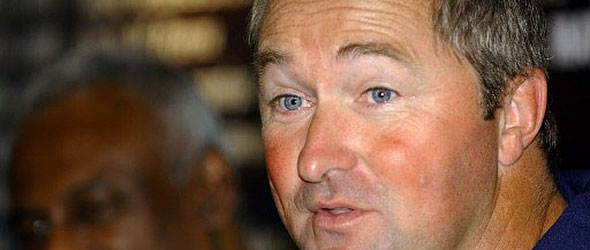 Former assistant coach Paul Farbrace not interested in Sri Lanka head coach position. AFP/File/SANKA VIDANAGAMA.
July 29, 2011 (Island Cricket): Despite being short-listed for the position, former assistant coach Paul Farbrace appears to have no interest in becoming Sri Lanka's next head coach.
Farbrace served for two years as Sri Lanka's assistant coach under the former head coach Trevor Bayliss, and recently came into the reckoning again after his successor Stuart Law, who was appointed interim head coach for the recently concluded tour of England, decided to join Bangladesh as their head coach midway through the tour.
Law told reporters he was unhappy with the interim status of his appointment, and urged Sri Lanka Cricket (SLC) to decide swiftly on his future employment. However, the previous SLC interim committee headed by chairman Somachandra de Silva and secretary Nishantha Ranatunga ignored Law's pleas, forcing the Australian to seek employment elsewhere.
"I had a call from a journalist in India, who said he had it on good authority that I was to be appointed the new head coach of Sri Lanka," Farbrace, who is now director of cricket at Kent, told Kent News.
"I said I had no approach from Sri Lanka and no meetings with Sri Lanka when they were on tour here.
"I then had afternoon tea with Prasanna Jayawardene, the wicketkeeper, and I had a beer that evening with Mahela Jayawardene and Kumar Sangakarra, because I bumped into them in the same hotel that I was having a meeting in Southampton with Andy Flower.
"That was my only contact with the Sri Lanka team when they were over this summer.
"The Sri Lankan board then sent me an email asking me if I would be interested in the job. I replied saying that I enjoyed my time at Sri Lanka and that I am still under contract at Kent and that's as far as it went.
"The board were then disbanded and a new board came in and I've read, like everybody else, that they have appointed an interim coach until the end of the Australia series.
"That's genuinely honest; I haven't applied for the job."
In June, the former chairman of SLC de Silva told an Indian reporter that Farbrace was the back-up plan, in the event their first choices were unavailable.
"No, we don't consider being in trouble if Stuart Law has decided to join with the Bangladesh team," de Silva said at the time.
"We are negotiating with two persons from England, and if the negotiations don't bring results, we may turn to Paul Farbrace again."
Since the disbanding of de Silva's interim committee last month, amid allegations of corruption and fiscal mismanagement, Sri Lanka have turned to yet another interim coach.
"We have appointed Rumesh Ratnayake only for the Australian tour because there is hardly any time to look for another coach," the recently appointed chairman of SLC's new interim committee Upali Dharmadasa told reporters earlier this month.
Tom Moody, who coached Sri Lanka to the ICC Cricket World Cup final in 2007, was also short-listed as a possible candidate. But Moody announced that he too was not interested.
Sri Lanka have been deprived of a full time coach since April, and are also currently without a foreign physiotherapist.
Furthermore, Island Cricket has reliably learned that both Ireland and Bangladesh pay their coaches significantly more than what Sri Lanka paid their former head coach Bayliss.
© Island Cricket