By Hilal Suhaib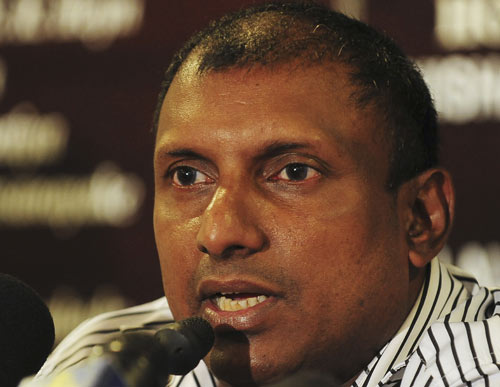 The new Chairman of Selecotrs, Aravinda de Silva. © AFP/Lakruwan WANNIARACHCHI.
June 07, 2010 (islandcricket.lk): Sri Lanka Cricket's newly appointed chairman of selectors said that he expects the media to support struggling players not criticise them.
Addressing the local media during a press conference at Sri Lanka Cricket headquarters, Aravinda de Silva said that he didn't mind any criticism directed at him, but asked journalist to avoid criticising the players.
The centurion from the 1996 World Cup final was appointed as chairman of selectors when Sports Minister, C.B. Rathnayake, sacked the previous selection panel headed by Ashantha de Mel last week.