By Rex Clementine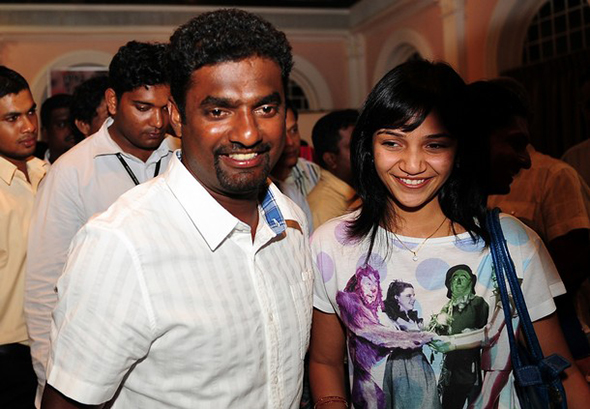 Muttiah Muralitharan and his wife Madhimalar attend a press conference in Colombo to announce Muralitharan's retirement from Test cricket on July 8, 2010. AFP PHOTO/Lakruwan WANNIARACHCHI.
July 08, 2010 (islandcricket.lk): In an emotional media briefing in Colombo yesterday, Muttiah Muralitharan,world's highest wicket taker confirmed that the first Test Match against India will be his last, but indicated that he is willing to play One-Day Internationals if there's a necessity leading up to next year's World Cup, which Sri Lanka will co-host.
Addressing the media flanked by his captain Kumar Sangakkara and Chairman of Selectors Aravinda de Silva, Muralitharan said, "I had a chat with the Chairman of Selectors and the Captain. There are many youngsters who are doing well. Leading up to the World Cup, they can try the youngsters and see, but if they need me at any stage, I would like to come and help. But if the youngsters are doing well I will be more than happy for them to continue," Muralitharan said.
He also put winning the 1996 World Cup as his greatest moment as a cricketer above all else. "Winning the World Cup was the greatest moment. I would like to thank Arjuna and Aravinda, who played a major role in that win. That win won us much respect from rest of the world. You can't get that feeling by just words." Muralitharan said.
He also fondly remembered his match winning performance at the Oval in 1998 when Sri Lanka beat England in England for the first time. "In Oval I took 16 wickets. Sanath got a double hundred and Aravinda scored 150. Those days England gave us only one off Tests. When we won in England in 1998 we got three Test series. My reputation also grew after that effort."
Muralitharan also said that initially he wanted to retire after the West Indies series, but once the board rushed in a series against India, he hastened his retirement.
He also said that there were some regrets during his 19 year playing career. "Not winning Test Matches in South Africa, Australia and India are regrets. But I am sure we will win very soon. We are a very good team, but unfortunately, we haven't been able to do it.
Sangakkara, giving the key note speech said, "Murali is a vast subject. He's the greatest bowler of all time. All of you know his record, you know how he started, but his true value is not as a cricketer. To me the most impressive thing about him is his values and his personality, which is amazing for Sri Lankan cricket and the society. In this day, when cricketers are accused of being money hungry and not playing for the country, Murali is a prime value. His earning capacity is a fraction of the earning capacity of many cricketers. He never grumbled, because for him the greatest joy was to play for the county.
"Lot of people were jealous of him, he wasn't. He's the only player to be tested and he even volunteered to be tested. Every single time he has come absolutely clean and he has only been a true human being through those trials."
"This is not a retirement. The best of him is yet to come. I expect him to come back in whatever way. With his immense knowledge, he will be great for Sri Lankan cricket, whether it is as a coach, selector or even if it means to just have a chat in the dressing room."
Muralitharan, who made his Test debut in 1992 against Australia has been a key member of the Sri Lankan side ever since. He was called for a suspect bowling action in Australia in 1995 by controversial umpire Darrel Hair in a Test Match in Melbourne. A few months later, the Sri Lankans went onto win the World Cup beating Australia in the final in Lahore.
Muralitharan's action came under the scanner in 1998 also in Australia when umpire Ross Emerson called him for throwing during a One-Day International in Adelaide. In 2004 once again Muralitharan's action was reported to be suspect by Match Referee Chris Broad, but on both occasions the International Cricket Council cleared him.
In 2007 he became the highest wicket taker in Test cricket going past Shane Warne during a Test Match against England at his hometown in Kandy. Two years later, he claimed the most wickets in ODIs overtaking Pakistan's Wasim Akram.
Leading up to the first Test against India, all eyes will be focused on the Sri Lankan vice-captain, who requires eight more wickets to take 800 Test wickets.