By Muttiah Muralitharan | April 1, 2011
On the eve of the ICC Cricket World Cup 2011 final – in his final appearance – the legendary Muttiah Muralitharan hasn't forgotten his fans.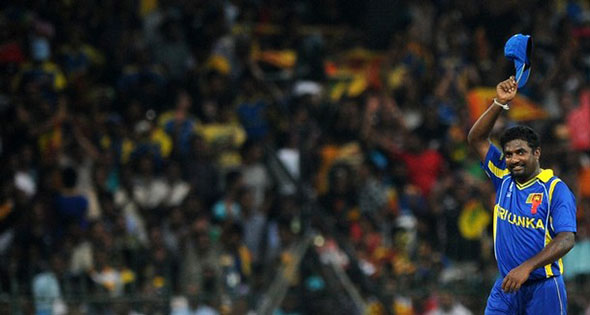 Muttiah Muralitharan waves at spectators as he walks back to the dressing room during the Cricket World Cup semi-final match against New Zealand in Colombo on March 29, 2011. Muralitharan retires after the April 2 World Cup, and bowled for the last time on home turf grabbing the wicket of Scott Styris in the final ball of his 10th over to finish with 2-42. AFP PHOTO/Ishara S. KODIKARA.
On the eve of my final International appearance and more importantly the World Cup final let me convey my heartfelt appreciation to all my loyal fans worldwide for their magnanimous support during my entire Cricket career of almost 2 decades.
Without your backing especially during good and difficult times over the years I may not be what I' am today and that is deeply embedded in my memory.
It is those who care for us that adds fuel to our passion in delivering the best we can to make our Nation proud.
Your good and kind thoughts with many blessings will be of paramount importance for this very crucial encounter that determines the World Cricket Champions until the next edition in 2015.
As always I shall endeavour to strive for excellence hoping it would be the best ever farewell in my journey of cricket and in the most celebrated final between India and Sri-Lanka.
Nicest wishes,
Muthiah Muralidaran.
(Unedited)