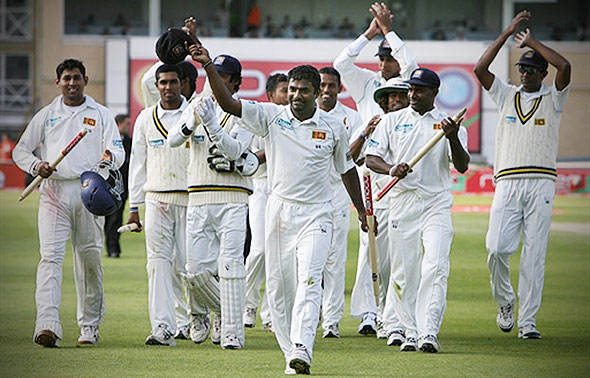 Muttiah Muralitharan is willing to coach Australian spinners despite years of abuse from Australian fans, officials and reporters. AFP PHOTO/PAUL ELLIS.
February 10, 2011 (Island Cricket): Muttiah Muralitharan's manager, Kushil Gunasekara, said that the Sri Lankan spin-legend's coaching stint at Cricket Australia's Centre of Excellence (COE) in Brisbane has not yet been finalised.
"Nothing has been finalised at this stage, owing to the date plan coinciding with his prior cricket commitments," Gunasekara said speaking to Island Cricket yesterday.
News reports from Australia stated that Muralitharan will join the COE as a spin bowling coach and is expected to spend several weeks there, training Australia's upcoming spinners.
"Test cricket's greatest wicket-taker will not only impart the secrets of his spin wizardry but also record a spin coaching tutorial, so his extraordinary know-how will be passed on to future generations of Australian spinners," a report this week on The Daily Telegraph revealed.
"It is a sign of how far the wheel has turned that Murali – who has been repeatedly heckled, taunted and even had fruit thrown at him by unruly fans here since being no-balled by Darrell Hair in the 1995 Boxing Day Test – will become Australia's potential spin saviour."
Muralitharan has had an unpleasant relationship with Australia in the past, but after a demoralising Ashes defeat at home, Cricket Australia have turned to the highest wicket-taker in Tests and ODIs for help with their spin bowling department.
"Whatever said and done he is willing to consider despite all of the humiliation in the past, demonstrating the quality to forgive and forget," Gunasekara said, when asked about how Muralitharan felt about the offer.
At the time of speaking, Gunasekara and Muralitharan were on the road, involved in yet another humanitarian project in Sri Lanka – the duo have partnered in many such projects to help the underprivileged.
When queried by the Indian daily, The Hindu, if there was "some sense of poetic justice" in Australia turning to him, despite all that has transpired in the past, Muralitharan said: "I want to look at the future. The past is gone. So we don't need to think anything about the past."
John Davison, a former Australian state player now playing cricket for Canada, is said to be behind the negotiations between Australia and Muralitharan.
Davison, who will be in Sri Lanka for the the ICC Cricket World Cup 2011 clash against Sri Lanka on February 20, will assist Cricket Australia in securing the champion spinner's services.
Davison told the Sydney Morning Herald that Muralitharan was keen on taking on the offer but "commitments with Indian Premier League club, Kochi, and English county, Gloucestershire, were potential stumbling blocks".
Also read:
Ross Emerson admits to no-balling Murali due to orders from the top
How Darrell Hair timed his no-ball call to gain maximum mileage
Taunts wont bother Murali
'Hair was just doing his job' – Muralitharan
Muttiah Muralitharan's arm
Muttiah Muralitharan does not throw – Whatmore
Q+A: Cricket – Muttiah Muralitharan's bowling action
Muttiah Muralitharan is not a chucker – Warne
Bowling Report: Testing Muralitharan's Doosra
© Island Cricket