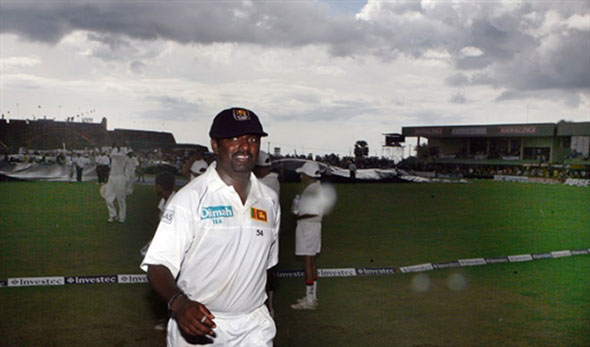 Muttiah Muralitharan helps promote the "Don't Drink and Drive" awareness campaign in PNG. FILE PHOTO/AFP/Deshakalyan CHOWDHURY.
December 2, 2010 (Island Cricket): Muttiah Muralitharan took part in the annual Twenty20 Legends Bash yesterday in Papua New Guinea. Muralitharan is currently in PNG taking part in a series of education and fundraising programs promoting World Aids Day.
"We're very lucky here at Cricket PNG to have a pretty influential national coach, of course, the great Andy Bichel. Andy was willing to make a phone call on our behalf and Murali, being the absolute champion that he is, was more than willing to come up to PNG and help develop the game of cricket and of course gain some exposure for the important social message which is: Don't Drink and Drive," Cricket PNG's Media Director and Australia Youth Ambassador for Sports Development, Brogg Schaefer, told Radio Australia explaining how Cricket PNG managed to secure Muralitharan's participation.
The Twenty20 Legends Bash is part of Cricket PNG's annual "Don't Drink and Drive" awareness campaign. The event, which was held on December 1, featured other international cricketers such as Brad Hogg, Adam Hollioake., Michael Di Venuto, Andy Bichel, Craig McDermott, Greg Ritchie, and Steve Rixon.
The players hosted a series of school and village based cricket clinics before taking centre stage at the Legends' Dinner at the Lamana Hotel in Port Moresby. They then split into smaller groups and toured the country over two days visiting both Lae and Alotau to help promote awareness of the Don't Drink and Drive message.
"Murali is known to billions around the world as the most lethal exponent of off-spin the world has ever seen," the CEO of Cricket PNG, Bill Leane, said declaring the spinner's arrival to PNG as one of the most stunning sporting moments in PNG history. "Once again Cricket PNG with the support of Pacific MMI Insurance and Motor Vehicles Insurance Limited is bringing to PNG the world best and most high profile sportsman. Murali and the rest of the Legend's will tour the country visiting as many people as possible to help raise awareness for the Don't Drink and Drive message."
© Island Cricket