By Hilal Suhaib
October 29, 2010 (Island Cricket): The current Sri Lankan vice captain, Mahela Jayawardene, told reporters in Australia that the pressure was off the champion spinner, Muttiah Muralitharan, in recent times due to the performances of other bowlers in the side.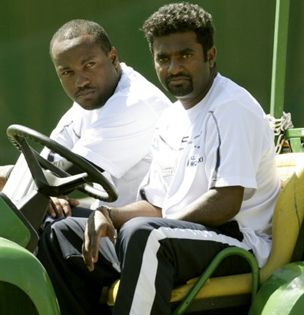 For more than a decade the burden has been solely on Muralitharan's shoulders to take the bulk of the wickets, and spin Sri Lanka to victory. But, Jayawardene said in recent times the likes of Lasith Malinga, Suraj Randiv, Ajantha Mendis and others have pitched in, easing the pressure on Muralitharan.
"He has nothing to prove to anyone right now. The last year or so we've seen a different Murali.
"Much more relaxed I reckon, especially in the dressing room. Because before that there was a lot of burden on him to do well, win matches for the country. But the last two, three years with Lasith, Mendis and a few of the other boys putting their hands up, the pressure has been less on Murali," Jayawardene said.
Muralitharan is the highest wicket taker in Test and ODI cricket, and the world record holder has returned to Australia one last before he retires, a country which he boycotted in 2004 due to defamatory remarks made against him by the then Australian Prime Minister, John Howard.