By Staff Writers
March 19, 2011 (Island Cricket): After injuring himself during the ICC Cricket World Cup 2011 group match against New Zealand on Friday at Mumbai's Wankhede Stadium, Muttiah Muralitharan is expected to play in the co-hosts' all important quarter-final coming up next week.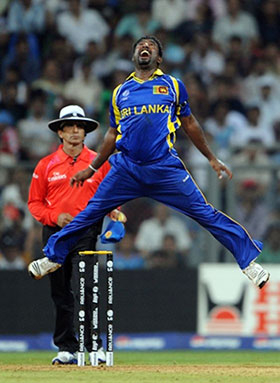 The 38-year-old is the highest wicket taker in ODIs and Test cricket and is in his final tournament before calling it quits on a limited-overs career that has spanned nearly two decades.
Against New Zealand on Friday, Muralitharan hurt himself while batting, diving to reach the crease to avoid a run-out.
"Murali banged his knee and [has got some] bruising on it and [he also has a] slight hamstring niggle," Sri Lankan captain Kumar Sangakkara told reporters after the game.
"In the next few days we got to pay as much attention as we can to Murali's injury and get him on his feet for the next game.
"Going back to Sri Lanka for him is going to be important, in that sense."
Muralitharan, however, was confident that he could overcome the injury in time for the elimination round of the World Cup.
"I have been carrying this hamstring injury for some time and it's not a problem," Murali said.
"I am prepared to play the rest of the matches because I am retiring after the World Cup."
© Island Cricket