By Ryan Francis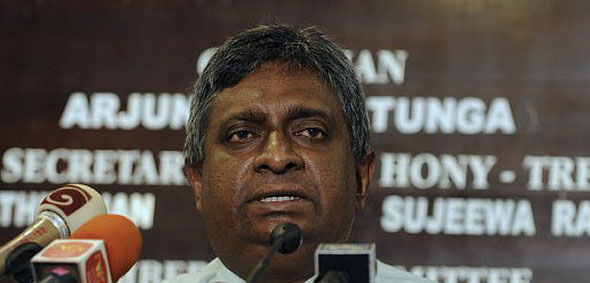 Will the current chairman of selectors Duleep Mendis also be appointed team manager? © AFP/File.
October 1, 2011 (Island Cricket): There are moves to appoint Duleep Mendis as team manager, while also retaining him as the chairman of selectors, causing divisions within the Sri Lanka Cricket (SLC) interim committee, a senior SLC insider disclosed to Island Cricket recently.
Mendis, 59, has been employed for a number of years by SLC as team manager, chief executive and now as chairman of selectors.
"There is a move by influential people to make Duleep team manager and also chief selector, but there is a lot of opposition against the idea," said the SLC official, who agreed to speak only on the condition of anonymity.
"During overseas tours, the team manager is the chief selector. The team manager gets a daily allowance of $100 per day and $50 per day, which is the host board allowance.
"Lot of tours coming up, big money to be made. But he is just being used as a pawn by a very powerful, influential former captain," he added.
Anura Tennakoon has been named as manager for the upcoming series against Pakistan in the United Arab Emirates. Tennakoon chose not to respond to queries from Island Cricket regarding the issue.
Another SLC insider was more forthcoming on the details, but was also only willing to speak if his name was withheld.
"In my opinion, Dropping Thilan [Samaraweera] and trying to get Mendis to become manager is Sanath Jayasuriya's work," the official said.
"Mendis prefers to listen to the captain [Tillakaratne] Dilshan. Why else do you think we had [Thilina] Kandamby given vice-captaincy?
"Kandamby's agent is also Dilshan's agent. Sometimes, it makes you wonder, when captains suggest players to be included it can be a conflict of interest."
When asked to justify implicating Jayasuriya, he replied: "Sanath is angry at the people who kept him out of the World Cup. Tell me, who was the captain and vice captain of that World Cup team?
"It was Kumar Sangakkara and Mahela Jayawardena, correct? It's no secret that Sanath is blaming them. Their agent is Samaraweera's agent and Lasith Malinga's agent."
During this year's Indian Premier League (IPL), Mendis and Malinga were involved in a disagreement after the fast bowler chose to play in the IPL and opt-out of the Test series in England, due to a degenerative knee condition that prevents him from playing Tests.
When Mendis ordered him to return from the IPL and follow a rehabilitation programme, Malinga announced his retirement from the five-day format in a hastily planned press conference and returned to India to play for the Mumbai Indians.
Both Malinga and his agent have since been criticised by the local media for Malinga's decision to retire instead of playing for Sri Lanka and the last-minute press conference which, journalist complained, didn't allow them enough time to attend.
But more importantly, the decision to retire left the chairman of selectors red-faced and blamed by certain sections for putting an end to Malinga's Test career; the fast bowler wanted to attempt a comeback to the longer format at a later date.
"Duleep has a bone to pick and money to make," the official added. "And Sanath knows how his career was ended. He will try to use Dilshan to do the same to the players that kept him out of the World Cup. That's why Dilshan is also pushing for Mendis to become manager. All three apparently met for dinner recently.
"But Mendis will not become manager. Some interim committee members are threatening to resign if it happens."
When asked to respond to these allegations, chairman of SLC's interim committee Upali Dharmadasa and media manager Brian Thomas did not respond to our queries.
© Island Cricket