By Ryan Francis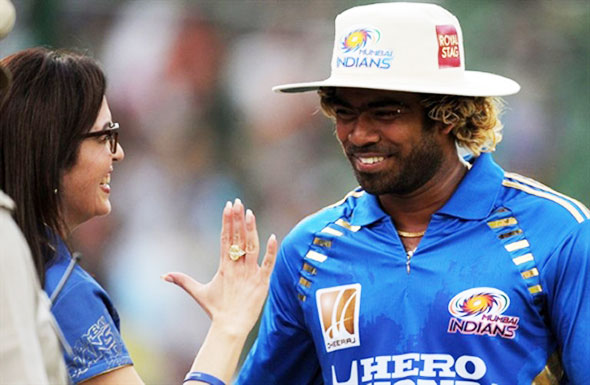 Mumbai Indians fast bowler Lasith Malinga is congratulated by the team's owner Nita Ambani at the end of the IPL Twenty20 match between Delhi Daredevils and Mumbai Indians at the Feroz Shah Kotla Stadium in New Delhi on April 10, 2011. AFP PHOTO/ MANAN VATSYAYANA.
April 30, 2011 (Island Cricket): Sri Lanka's interim head coach Stuart Law told the Sydney Morning Herald that Lasith Malinga had expressed interest in playing Test cricket for Sri Lanka again as early as August this year.
Malinga, who had made himself unavailable to play five-day cricket due to an injury-prone right knee, is currently taking part in the lucrative Indian Premier League (IPL) tournament.
His decision to miss Sri Lanka's three Test tour of England, starting later this month, but continue to play at the IPL has irked Sri Lanka Cricket (SLC) officials, who have given the right-arm speedster from Galle an ultimatum; if he is injured, he must return to Sri Lanka for rehabilitation and not play at the IPL.
Faced with the ultimatum from SLC, the 27-year-old announced last week that he would no longer play Test cricket in order to remain fit for future limited overs tournaments such as the ODI and T20 World Cups.
Sri Lanka's coach Law told the Australian publication that he sympathised with Malinga for choosing the riches of the IPL over playing Test cricket for Sri Lanka.
"It's a tough one for the players because we're not talking about $10,000 here and there. We're talking about a million dollars and Malinga, when he bowls, he puts his body through hell, so two more years of IPL cricket and he can put his feet up and not go through that pain again," Law said.
After his last Test for Sri Lanka, Malinga took a prolonged period to recover from an inflamed knee, caused as a direct result of his heavy workload in Test cricket, and Law said that he sympathised with the bowler, although he was disappointed in not having him at his disposal.
Law was appointed head coach as a temporary measure until SLC found a replacement for Trevor Bayliss, whose contract expired after the World Cup.
© Island Cricket