By Rex Clementine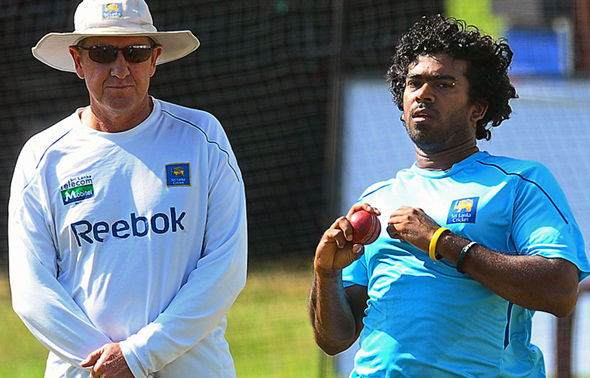 Lasith Malinga (R) is watched by coach Trevor Bayliss (L) as he delivers a ball during a practice session at The P. Sara Oval International Cricket Stadium in Colombo on August 1, 2010. Sri Lanka now head for the final Test at the P. Sara Oval from August 3 enjoying a 1-0 lead in the series after winning the first match in Galle by 10 wickets. Malinga is expected to return to the Sri Lankan side for the crucial third Test after missing the second due to a knee injury. AFP PHOTO/Lakruwan WANNIARACHCHI.
August 01, 2010 (islandcricket.lk): Sri Lanka will only play five Test Matches this year, and that would have been just two Tests had India not agreed to play a three Test series. Sri Lankan coach Trevor Bayliss says ten Tests a year is the ideal amount for his side and spoke about the need of playing England, South Africa and Australia regularly.
"The players would love to see nine to ten Test Matches a year. They believe Test Matches are the real test. They like to play the other teams like South Africa, England and Australia a bit more. It's not the players fault that we are not playing. We love to test ourselves out against different opposition," Bayliss said speaking at the post match media conference after the second Test against India at SSC.
He was asked about the decision to leave out left arm spinner Rangana Herath from the side after he played a key role in the Galle Test, which Sri Lanka won by ten wickets.
For the second Test at SSC, the hosts left out Herath giving off-spinner Suraj Randiv an opportunity to make his debut.
"Dropping Rangana was very tough. He's been part of the team for the last 12 months and he's bowled very well for us. It's just that against the Indians we needed a little extra bounce on the ball and with Suraj Randiv being a little bit taller he does get good bounce. We thought we give that a try," the Sri Lankan coach said.
Bayliss expected Lasith Malinga who played a key role in the Galle Test to return to the starting line up for the final Test at the P. Sara Oval after missing the second Test due to a knee injury.
"He's come a long okay. He's done some work with the physiotherapist. He's improved since Galle."
However, Dhammika Prasad, who played the second Test remains a doubtful starter after falling ill midway through the second Test.
"He was ill and he vomited a couple of times on the edge of the ground. We looked after him a little bit. He didn't complain at all and he was out on the field for a reasonable amount of time. He was off only once. He did reasonably well in trying circumstances as he wasn't 100 percent," stressed Bayliss.