By Premasara Epasinghe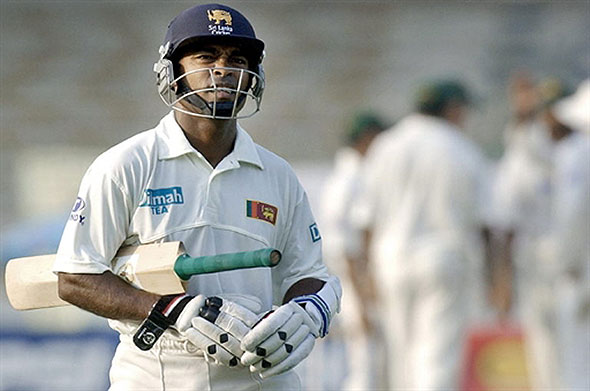 Kaluwitharana played in 49 Test matches and in 78 innings, collected 1933 runs and with a highest score of 132 n.o. AFP PHOTO/Aamir QURESHI.
December 11, 2010 (Island Cricket): The greatest sports achievement that Sri Lanka achieved was annexing the Wills World Cup on 17th March 1996, at the Gaddafi Stadium in the historic city of Lahore, Pakistan.
The unbeaten Sri Lanka cricket team notched a seven wicket victory against their arch-rivals Australia.
Ably led by skipper Arjuna Ranatunga, the victorious team included Aravinda de Silva, Roshan Mahanama, Asanka Gurusinha, Hashan Tillekeratne, Sanath Jayasuriya, Romesh Kaluwitharana (keeper-opening batsman), Chaminda Vaas, Kumar Dharmasena and Pramodhya Wickramasinghe. It was truly a team effort that helped Sri Lanka to win the World Cup. But there were some blazing individual performances that stand out.
The invincible Sri Lanka World Cup team created history, revolutionising one day cricket, by introducing a new format with the openers playing the role of pinch-hitters. Before 1996, the strategy of most of the cricket teams were to build a steady flow of runs in the first ten to 15 overs, and go pell-mell in the last ten overs. Sri Lanka, with Sanath Jayasuriya and Romesh Kaluwitharana introduced the new concept, from the first over. Normally they maintained a run-rate of 10 to 7 runs in the first ten overs.
In cricket, one of the most difficult jobs is to keep wickets and open batting. It is a huge challenge. If he fails, sometimes, the entire team flops. The man who played the vital role as a performer in the Wills World Cup 1996, who played a dominant role was our 'Little Kalu', – Romesh Shantha Kaluwitharana.
The first time I met him was in the month of November 1982. I was watching the under 13, Division One team of my school – Nalanda Vidyalaya, Colombo.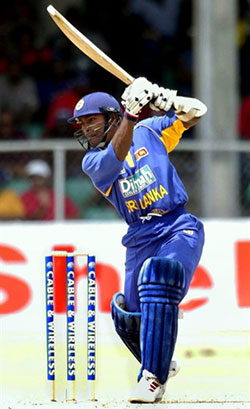 Nalanda met St. Sebastian's College, Moratuwa, at Moratuwa. The St. Sebastian's team was captained by a sturdily built, dark complexioned Romesh Kaluwitharana. From the day I saw the dashing little fellow bat I knew, a champion was in the making. He was bold and fearless. There were easily about a thousand spectators, mostly Moratuwa fans cheering. Kaluwitharana was thrashing the Nalandians. After a quick-fire 75, Kaluwitharana was caught on the boundary line of the bowling of that fine all-rounder from Nalanda, Danesh Dissanayake (incidently both Danesh, and Bhagya, left Nalanda, joined Wesley College and S. Thomas' Colleges, respectively and played in the First XI teams in late 1980s). The crowd were signing some songs loudly when Kaluwitharana was going great guns 'Api Kiyanawa Deviyanta – Ape Romesh Rekadenta').
Nalanda began their innings disastrously. But Bhagya the left hander, steadied the ship, and remained unbeaten on 92 and beat St. Sebastian's and entered the finals. Later, Nalanda beat Ananda by 100 runs and annexed the plum of junior cricket in December 1982.
Born on November 24, 1969, Kaluwitharana excelled as a brilliant schoolboy cricketer and later he played club cricket at the highest level and represented Colts Cricket Club, Galle Cricket Club, Sebastianites Cricket Club and won his Test cap in 1992 and represented Sri Lanka.
The diminutive Kalu burst onto international fame, with an unbeaten 132 on his debut against Australia in 1992-1993.
The Sri Lanka-Australia Test match was played at Sinhalese Sports Club (SSC) grounds from August 17-22, 1992. Romesh became the cynosure of all eyes. This brave little cricketer believed in the philosophy – 'attack is the best form of Defence'. From the word go, he pulverized the Australian bowlers to all parts of the ground.
Kaluwitharana's One Day debut was played on December 8, 1990 at Madras against India. However, he failed to secure his place, because of occasional failures. They say form is temporary, but class is permanent.
The 1995/1996 tour of Australia was the turning point of his career, as he partnered Sanath Jayasuriya to form a devastating pinch-hitting opening pair. Thus, Romesh became an integral figure, in Sri Lanka's astonishing World Cup victory in 1996.
In the 1996 World Cup semi-finals played at the famous Eden Gardens, Kolkata, Sri Lanka were awarded the match after crowd disturbances. It was Kalu who paved the way for a Sri Lankan victory, when he brilliantly stumped Sachin Tendulkar, when he was in full cry with a half a century. That turned the tables.
As a schoolboy, Kaluwitharana was coached by Brother Nimal Gurusinghe. This great teacher was the guide and philosopher not only to Kaluwitharana, but also to many top cricketers. Dedicated and committed, Brother Gurusinghe's contribution to cricket is enormous. He taught children the true spirit of cricket and discipline. Such great teachers are rare. I still remember, after Nalanda defeated St. Sebastian's, how he congratulated the Nalanda team and wished them good luck.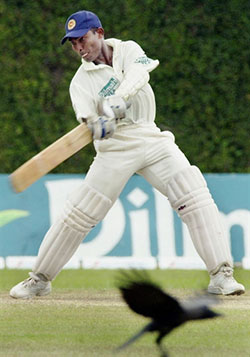 Kaluwitharana played in 49 Test matches and in 78 innings, collected 1933 runs and with a highest score of 132 n.o. He had a strike rate of 60.34. He scored three centuries and nine fifties. In 78 innings, Kalu had 284 fours and six sixes. As wicket-keeper, he held 93 catches behind the stumps and had 26 stumpings.
He played his debut Test against Australia at the SSC from August 17-22 1992 and his last Test was against Pakistan at Karachi, from October 28 to November 1 2004.
Romesh Kaluwitharana played in 189 ODIs and in 181 innings, scored 3711 runs and remained unbeaten on 14 occasions. His highest score was 102 n.o. He maintained a strike rate of 77.79 and scored two centuries and 23 fifties. In his distinguished career, he stroked 411 fours, and hit 17 sixes. His ODI debut was against India at Madras on December 8, 1990 and his last ODI was against Australia at the Rangiri Dambulla International Stadium on February 22, 2004. Further, he played in five Twenty-20 matches, faced 12 balls, scored 24 runs and had two victims behind the stumps.
After retiring from Tests and ODIs, he coached his club with distinction. He later took up a career as a Marketing Manager at the Insurance Corporation of Sri Lanka. Presently, he is serving Sri Lanka Cricket as a coach.