By Staff Writers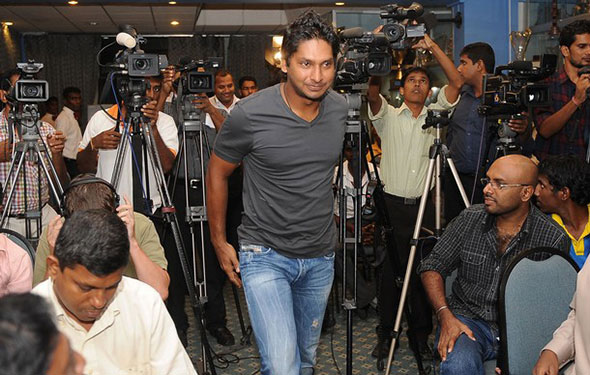 Kumar Sangakkara arrives at press conference in Colombo on April 5, 2011, where he said he would be stepping down as captain of Sri Lanka. AFP PHOTO/Lakruwan WANNIARACHCHI.
April 5, 2011 (Island Cricket): Sri Lankan captain Kumar Sangakkara has announced that he will be stepping down as captain of the Sri Lanka cricket team.
In a recent statement, Sangakkara said: "I would like to announce that after careful consideration I have concluded that it is in the best long-term interests of the team that I step down now as national captain so that a new leader can be properly groomed for the 2015 World Cup in Australia."
The 33-year-old said that his decision to step down was made prior to the ICC Cricket World Cup 2011 final loss to India.
"This was a decision I made prior to the 2011 World Cup," Sangakkara said.
"I will be 37 by the next World Cup and I cannot therefore be sure of my place in the team. It is better that Sri Lanka is led now by a player who will be at the peak of their career during that tournament."
Sangakkara, however, has offered to remain as captain for Sri Lanka's tour of England and Australia's tour of Sri Lanka later this year.
"I met with the selectors on Monday and I explained my reasons for my decision and I assured them of my fullest support in helping our new captain settle into the leadership," he added.
"In this regard, I have offered to continue as the Test captain for the forthcoming series with England and possibly Australia if the selectors believe this would help the new captain and aid the transition.
"I have no plans of retirement from international cricket at this stage and subject to form and fitness I would like to be considered for selection in all three formats of the game for the foreseeable future."
Under Sangakkara's captaincy, Sri Lanka have played 14 Test matches, of which Sri Lanka won five and lost three (Draw:6). In One-Day Internationals under Sangakkara, Sri Lanka have won 27 and lost 14 of their 45 ODIs.

© Island Cricket