By Gavin Van Hoff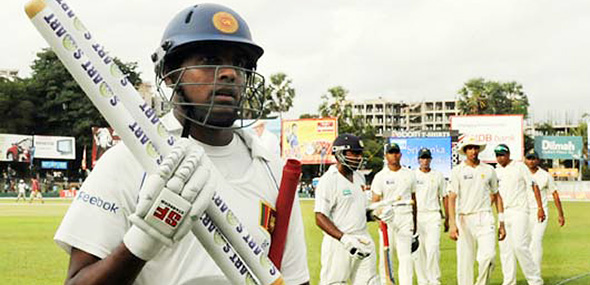 Has the curtain fallen on Thilan Samaraweera's career? © AFP/File.
October 1, 2011 (Island Cricket): Former Sri Lankan captain Mahela Jayawardene said that he was surprised by the decision to drop Thilan Samaraweera from the Sri Lankan Test side for the third Test against Australia and the upcoming series against Pakistan.
"He's been fantastic for us since his return to Test cricket in 2008 – averaging an unbelievable 69.21 in those three years – and has easily been our most consistent Test batsman both at home and overseas," Jayawardene wrote on his blog.
"Knowing Thilan, though, I am sure he'll be determined to win his place back and hopefully he will have a good constructive discussion with the selectors about what they require from him."
Samaraweera last scored a Test century in August 2010 and has two scores of over 50 in his last 10 Test innings.
"Thilan will not come into the reckoning in our long term plans," Sri Lanka's chairman of selectors Duleep Mendis told ESPNCricinfo last week.
"We intend giving youngsters an opportunity while the seniors are around. He might be considered on a short-term basis."
Shortly after arriving in Sri Lanka to begin work as the head coach, Geoff Marsh also suggested a similar rotation policy.
"With the amount of cricket Sri Lanka will be playing in the coming two years, we are not going to look at the 11 players who will be in the final team," Marsh said.
"The target will be around 25 players or even maybe more in the squad. It's the way to keep the senior players fresh."
© Island Cricket