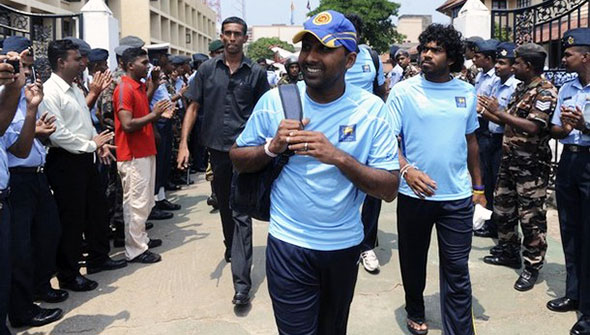 Mahela Jayawardene said that he was impressed with the R. Premadasa Stadium in Colombo. AFP PHOTO/Ishara S. KODIKARA.
February 18, 2011 (Island Cricket): Mahela Jayawardene heaped praise on the newly reconstructed R. Premadasa Stadium and said the Sri Lankan team was "heartened" by what they found there when they played their second ICC Cricket World Cup 2011 warm up match at the venue.
"Playing under lights at the R. Premadasa Stadium was what we were after and we were heartened by what we encountered," Jayawardene wrote on his website.
"As everyone knows, batting second at the Premadasa Stadium has been particularly difficult in recent years and to have chased down a near 300-score was very positive.
"It was obviously encouraging from a team-confidence and self-belief point of view but no less important a factor is the improved ground conditions which make for a more even contest."
Jayawardene commended the new floodlights installed at the Premadasa Stadium and said the old lights at the venue made batting under lights harder.
"The new lights plus an improved wicket augurs well for the World Cup and despite my obvious bias as a batsman, I do not think spectators enjoy too many matches where teams struggle to pass 200 runs," he added.
Sri Lanka Cricket spent approximately $8 million to renovate the stadium for the World Cup. Despite the upgrades, the spotlight was cast on the Premadasa Stadium wicket in January after matches played at the venue during the last inter-provincial limited over tournament resulted in low scores.
The stadium will host seven matches including three of Sri Lanka's six group stage matches, a quarter-final and a semi-final.
The first match at the venue will take place on February 26 when Sri lanka play Pakistan.
© Island Cricket