By Hilal Suhaib

Mahela Jayawardena donates cricket equipment to schools in Kilinochchi, Oddusuddan and Vavuniya. © Mahela Foundation.
October 14, 2011 (Island Cricket): During a visit to the island's war-ravaged north, former captain of the Sri Lanka cricket team Mahela Jayawardena said that he came across a 14-year-old fast bowler who was "genuinely quick" and a batsman who, in technique, resembled the West Indian legend Brian Lara.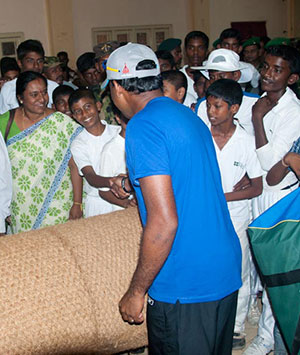 Jayawardena spent two days visiting schools in territory once controlled by the Tamil Tigers, where he distributed cricket equipment donated by his charity the Mahela Foundation and spent several hours offering the youngsters valuable tips to improve their game.
Jayawardena's visit to the Tamil-dominated north included coaching camps with boys and girls aged between 12-18 in four schools – Vavuniya Central College, Oddusuddan Maha Vidyalayam, Kilinochchi Central College and Killinochchi Hindu College.
"All communities suffered from our 30-year civil war but children were traumatised the most and they are the ones who now really need our help and care as we enter a crucial period of reconciliation and community-building," Jayawardena said.
"I saw first-hand the deep passion for cricket in the schools and strongly believe the game can not only bring fun and enjoyment but it can foster friendships and be a really positive force for good."
Jayawardena believes cricket has a vital role to play in helping children in Sri Lanka's now peaceful north and east rebuild their lives after three decades of war.
"It was one of the best weekends of my life," he said. "I was humbled by the generosity of so many people who looked after us and I was inspired by the spirit and ambition of both the children I coached and the teachers and school principals."
"The facilities in many northern schools, especially in the more remote rural areas, are unbelievably basic but they are trying their best with what they have and the natural talent is already there to be seen," Jayawardena added.
"In Killinochchi, there was a 14-year-old fast bowler who was genuinely quick and during the same camp there was also a young left-handed batsman who looked like Brian Lara and had a really nice technique.
"The equipment we provided for 10 schools was really just a drop in the ocean. But it is a start and with the help of Sri Lanka Cricket and other generous donors we can help these children become national heroes."
Jayawardena's visit was funded by his foundation and facilitated by Muttiah Muralitharan's charity the Foundation of Goodness and the Sri Lanka Army.
"Murali and his manager Kushil [Gunasekara], who runs the Foundation of Goodness, have shown us all how we can make a real difference and contribute to Sri Lanka having a peaceful and prosperous future.
"I hope other Sri Lankans, those at home and overseas, will follow their example and make a positive contribution.
"By working together, we can help heal the wounds of a terrible conflict and ensure a better future for our children and grandchildren."
© Island Cricket