By Staff Writers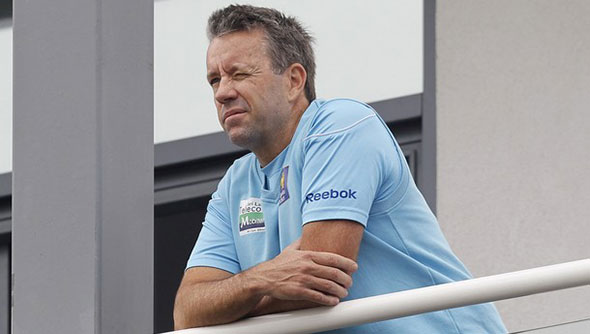 Stuart Law is understandably worried about his future with Sri Lanka, amidst reports that he has received offers from elsewhere. AFP PHOTO/IAN KINGTON.
June 19, 2011 (Island Cricket): Stuart Law has received an offer from Bangladesh, and wants Sri Lanka Cricket (SLC) to make a speedy decision concerning his future employment with the Sri Lankan cricket team, a report on Britain's The Daily Mirror newspaper said today.
Law was Sri Lanka's assistant coach, before being appointed as an 'interim coach' for Sri Lanka's ongoing tour of England, after the end of Trevor Bayliss' contract as head coach post World Cup.
The 42-year-old, the report says, is unhappy with the uncertainty surrounding his future with Sri Lanka, as SLC are planning on delaying the appointment of a full-time head coach until Australia's tour of the island later this year, despite stating that they would make a decision sooner.
"But they have been given the hurry-up as Law is being pursued by at least one other potential employer in addition to the Bangladeshis," The Mirror reported.
Law told reporters last week that he was unsure if SLC would name a permanent coach by the end of the tour of England.
"They have said that after the UK tour they will make a decision, but I'm wondering if that is the case," he said.
"If I am part of their plans, then really I would like to know now because if they don't want me, then I've got some other opportunities that I could seek.
"I don't know where I stand at the moment, and surely if they are going to make me head coach, or not, they should know very soon. I think I deserve the respect of being told where I stand and, if they have someone else in mind, okay but tell me.
"It's been a wonderful opportunity and a great experience to work with some of the best players on the planet. I've enjoyed it immensely and naturally I'd jump at the chance of being appointed on a full-time basis."
SLC has also sought a government bailout, according to treasurer Sujeewa Rajapakse who spoke to the BBC earlier this month, and the financial crisis at the richest sporting body on the island could well be delaying the appointment of a full-time coach.
Adding to the confusion, are recent news reports that SLC have also shown interest in South African Ray Jennings.
Former Sri Lankan coach Tom Moody was short-listed for the position, but in April Moody pulled out – he was no longer interested.
© Island Cricket